What You Need to Know About Keyless Entry Systems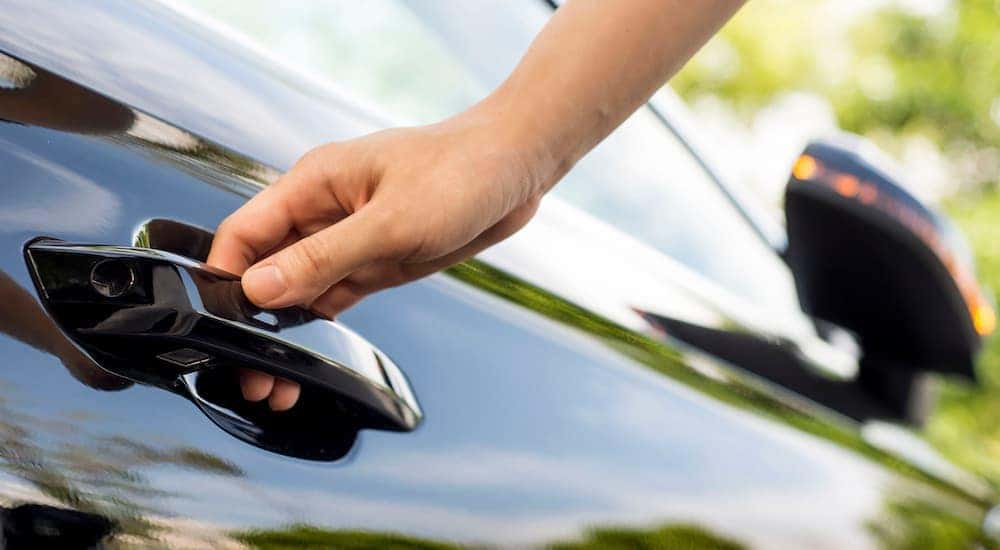 Car keys are an essential part to the operation of your vehicle. However, modern vehicles have taken the idea of locking, unlocking, and starting your car to a whole new level with things like push-button start and keyless entry systems. Keyless entry systems have been around for quite some time, with key fobs and keypads proving to be popular options among consumers. Key fobs, in particular, have become quite popular with those who like the ease of use and convenience, the lower risk of locking your keys in the vehicle, and the newer technology that you can interact with just by having the key fob in the proximity of the vehicle. Others prefer a number pad so that they never run the risk of being locked out or losing their keys.
If you're looking through used cars for sale, you may want to put "keyless entry" on the list of features to add to the search for the perfect vehicle. Honda models, both old and new, have some keyless entry options, along with being practical, reliable vehicles, so if you're eyeing one, it's a good idea to ask if it has a key fob or another form of keyless entry, as well as what kind it is and how it works.
What Can Keyless Entry Systems Do?
No matter which type of keyless entry you choose, there are some basics that all systems have. Pretty standard keyless entry abilities include the unlock/lock function, the panic alarm, open trunk, and remote start. What's nice about this is that you'll avoid having to wrangle your keys in inclement weather, instead pressing the remote start and unlock so that you can run, jump in, and drive without having to wipe off any rain, sleet, or snow. There are more options regarding the keyless entry system, though it depends on the model and trim level whether or not they're included, like the roll-down windows function and the memory seat presets, which will ensure that every time you drive, everything is already adjusted for you.
Other offerings when it comes to keyless entry systems range from opening and closing the sunroof to recognizing the key fob and unlocking or locking it without you ever having to dig around in your pocket or purse for the fob. Vehicles that have a push-button start will also have a keyless entry system, as they need to sense the keyfob in the vehicle in order to be able to turn on but don't actually use a key, just a button.
Again, depending on which keyless entry system you go with, you may have more or fewer options than listed above. How do you decide which keyless entry system is best for you? How different are they? What are the questions you should ask before trying out a keyless entry system?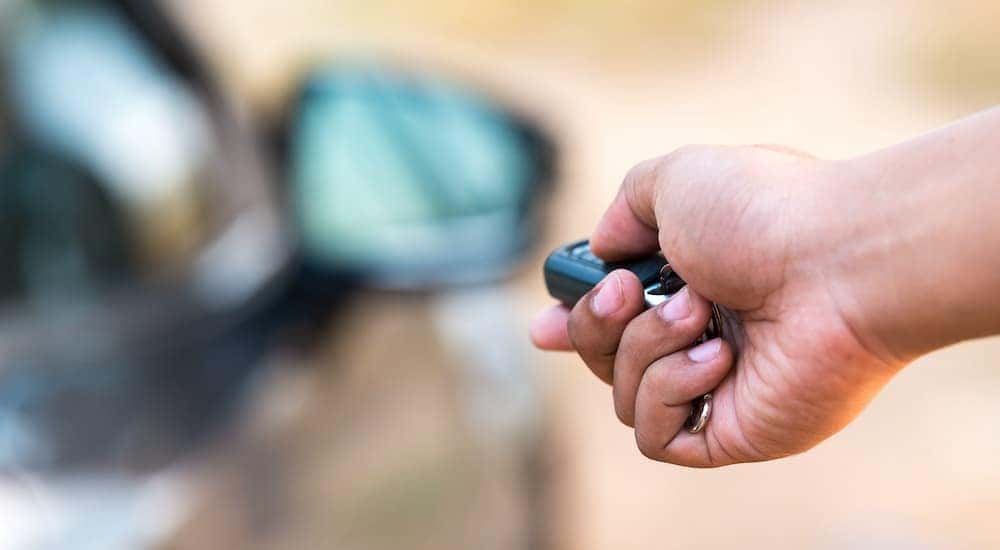 Types of Key Fobs & Keyless Entry Systems
Even though you may be aware of a few types of keyless entry systems, over the last few years, many manufacturers have either come out with proprietary systems, upgraded old systems, or agreed to let tech manufacturers create fobs or keypads that will work with a variety of vehicles. There are more choices now than there ever have been, though almost all the options are housed in either key fobs or keypads.
A key fob is attached to the key or keyring and can be used by pressing a variety of buttons, such as the unlock or lock buttons, car alarm button, or the open trunk button. They can come with a transponder or without, depending on the trim level and what you want them to do.
A keypad is attached to the driver's door and is equipped with numbers. The driver has their own special code to unlock the vehicle and engage other protocols like memory seat preferences. Depending on what you want out of your keyless entry system, you'll prefer one over the other.
Another system that has recently been put in place by Honda is the Smart Entry with Push Button Start, which equips you with a key fob, but doesn't require you to take it out to use it. The vehicle and Smart Entry fob communicate once they're within range of each other, so when you touch your car door, it unlocks for you without you needing to push a button. Another feature of this specific system is that you can lock it in two different ways: by touching the lock button on the outside of the vehicle or enabling Walk Away Auto Lock, which senses when the key fob is out of range and then locks the door.
Which Used Vehicles Have Keyless Entry Options?
As far back as 1980, vehicle manufacturers have offered some sort of keyless entry option, though not everyone used that name. Ford had it available on the Thunderbird but later decided to brand their system and call it SecuriCode. This system is a keypad version of keyless entry. You can find it on many of the Ford models, like the F-150, Bronco, and Explorer, so be sure to ask us about it.
Many of Honda's more recent offerings come with the Smart Entry keyless entry system. Families who have their hands full with wrangling the kids will love having it in the Odyssey minivan. However, models like the CR-V, Pilot, and Civic also offer this system. Again, we would suggest looking at more recent models to be able to get the most robust versions of keyless entry from Honda or any of the other used brands on our lot.
Nissan, on the other hand, decided to call their system Intelligent Key. This keyless entry system is available on models like the Nissan Versa, a sedan that is known for its spaciousness, low price, and durability. This is especially nice for those who have a small family or live with a partner and their pet and just need a car to get them from point A to point B in comfort. Having the Intelligent Key system just makes it easier to focus on the journey ahead instead of having to scramble to find the keys that you swore were right there on the counter. You can also get this system on the Murano, Sentra, and other Nissan vehicles.
Not in the market for a sedan? How about a pickup? The Toyota Tacoma is a popular choice among those who prefer having something that can function on and off the road with the ability to haul and tow everything from a boat to a trailer. This model has the Smart Key System from Toyota, which means as long as you have your key fob on your person or in your bag, you can grab the door handle to unlock the vehicle and touch it to lock it. The Smart Key System is available for many of Toyota's models, like the Corolla and RAV4.
Dodge's keyless entry system, Keyless Enter-N-Go, is available on the Durango. The family SUV has been equipped with Keyless Go since 1998, though not all trim levels had it back then. Nowadays, the Durango can be locked or unlocked without having to use the key fob or any buttons, which is incredibly helpful when you're trying to juggle kids, school supplies, groceries, and the like. You can also find this system on the Charger and Challenger.
There are far more models and brands that have keyless entry systems than what we have listed here. If this is something you want, ask us about it, and we can go through the different types of systems that are available in the vehicles on our lot, from the modern and simple to the classic and complex. If you are simply looking for a vehicle with a key fob to lock/unlock, you'll find that in many older models, but if you want proximity features that work when it senses you nearby, you'll want to stick to more modern offerings.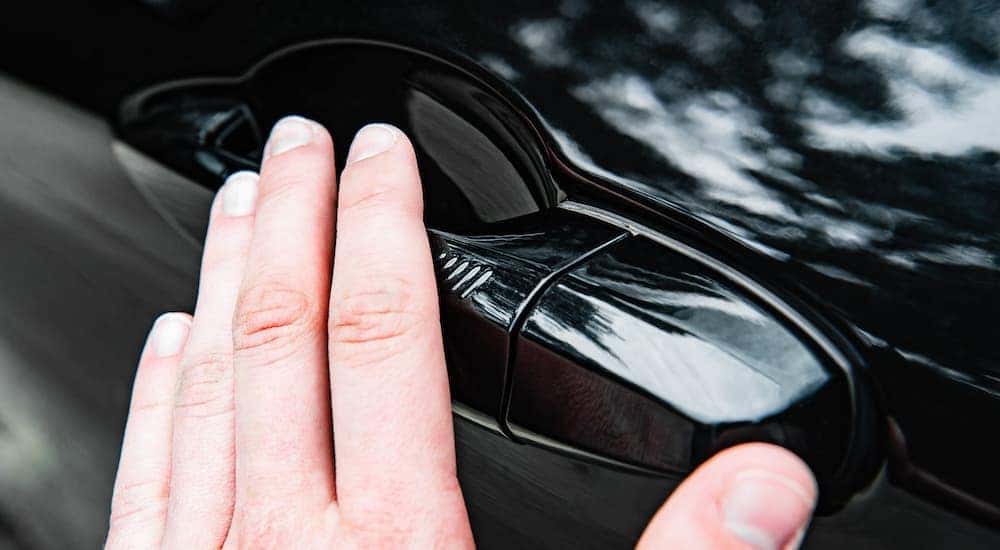 Increasingly Sophisticated Ways to Control Your Vehicle
With so many keyless entry options, it's easy to find something that will work for you. You can get the ability to roll down windows, unlock doors, open the trunk, record memory seat presets, and more with either the click of a button or merely standing next to your vehicle. When you're looking at used cars, be sure to speak to one of our sales reps to ensure that you are looking at the vehicles that come with keyless entry and that it has the features you want already included. You'll feel so carefree it will seem like keys were a thing of the distant past.