The Best Used SUVs For Your Price Range!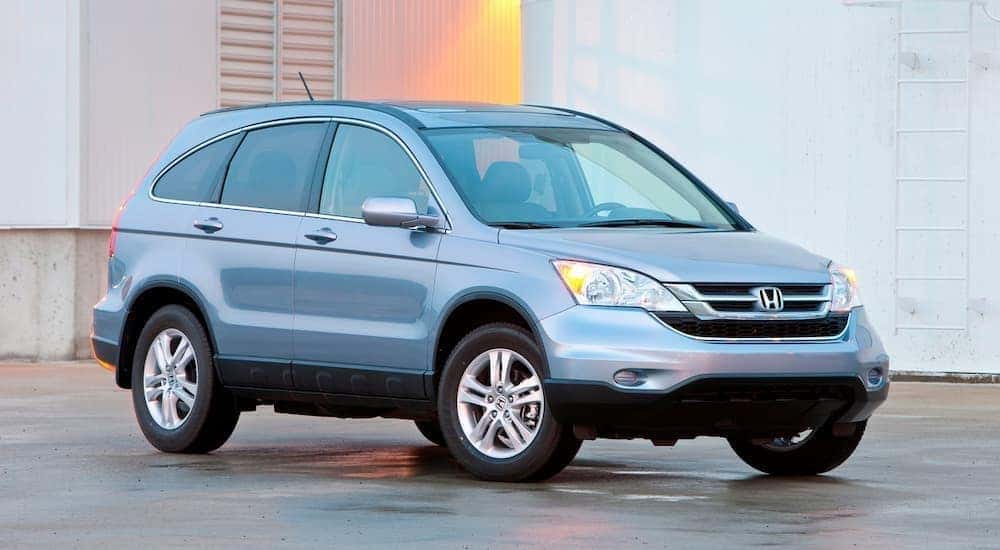 When you type in "Atlanta Best used cars" into the search engine, you're bound to feel overwhelmed and lost. There are multiple used vehicle ads and postings by sellers everywhere, making it hard to know where to start or who to trust. In addition to that, picking through all those vehicles can get time-consuming quickly. That's why we've prepared a list of the best used SUVs here for you.
Used vehicles come at multiple price points, so the term "best used cars" gets broad pretty quickly. We've got some great options from three different price ranges for you here for that reason. Let's start with the most affordable and make our way to the most expensive used vehicle options.
$15,000 and Under
Maybe you want to pay out of pocket and go, or maybe you just don't want to take out a huge loan right now. No matter what your reasoning, it's common to want a cheaper used vehicle. This is especially true if you're looking for a work car or a college car. This is when we recommend the Honda CR-V compact SUV.
You can easily purchase a 2011 CR-V for under $15,000. This model comes in four different trims, and it can get some pretty impressive fuel economy for its age. While this model isn't made for hardcore towing, it can safely pull off towing up to 1,500 pounds. So, when you need some extra hauling space in addition to the CR-V's 72.9 cubic feet of cargo, hook up a trailer, and you're set.
This model is also available with all-wheel drive. While you're likely not going to be tackling gravel roads on a daily basis, this mode is handy for unexpected backroads and inclement weather. Heavy downpours are no match for the CR-V's all-wheel drive accompanied by all-season tires. In addition to being one of the safest brands out there, Honda is also great for providing high-quality models at an affordable rate. This is why the CR-V as a whole is one of the world's most popular, best-selling SUV options on the market.
$20,000 to $30,000
On average, most people pay between $20,000 and $30,000 dollars for a decent used vehicle. This common price range includes tons of reliable SUV and crossover options, but you can't buy them all, so we've picked one specific option for you, which is the 2018 Kia Sorento. This model falls within this price range and offers everything you need a used SUV model to have.
First off, the 2018 Sorento offers two solid engine options to choose from. So, you can either stick with the classic V6 option or try out the turbocharged engine for even better fuel economy. This is also a larger model, so it can seat as many as seven passengers while offering 74 cubic feet of cargo space.
Furthermore, this model includes several standard mechanical safety features such as Hill Start Assist and Anti-Lock Braking, to name just a few. The best part is that the Sorentos UVO connectivity system comes at no additional cost. This handy, built-in technology makes it easier to download and stream music, find local locations, and much more. You can even keep track of your "driving score" or keep up with your spouse's driving skills. It's like free ammunition for when the "who's the better driver" argument pops up!
When it's time to start towing, the Sorento is more capable than you'd think, offering a 5,000-pound towing capacity. This is only available on the all-wheel drive trims, though, so keep that in mind when it's time to go shopping. We recommend the 2018 Kia Sorento to anyone trying to stay within the $20,000 to $30,000 price range.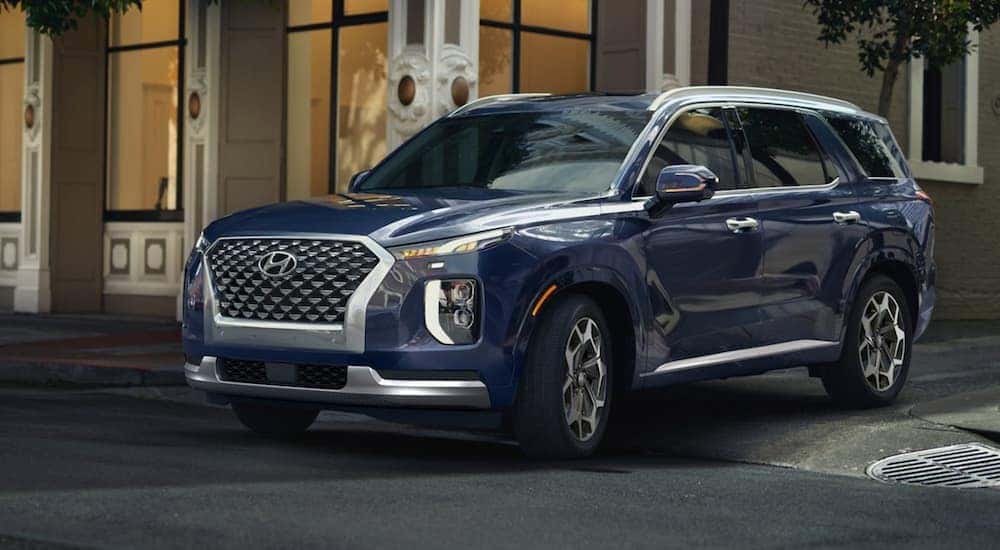 $40,000 to $50,000
It's not often that a used vehicle surpasses $40,000 in pricing unless you're purchasing a newer model. If that's something you're looking for, we highly recommend that you check out the 2021 Hyundai Palisade. While its lower trims start off in the $30,000 range, a well-equipped model will pass $40,000, but it's well worth it, and here's why.
First of all, the 2021 Palisade is specifically known for its family-friendliness. This is due to both safety and comfort. Comfort-wise, this model comes with Hyundai SmartSense, which offers not 5, not 7, but 12 safety features. These features include the following:
Forward Collision-Avoidance Assist with Pedestrian Detection (FCA-Ped)
Smart Cruise Control (SCC) with Stop & Go
Blind Spot Collision-Avoidance Assist (BCA)
Lane Keep Assist (LKA)
High Beam Assist (HBA)
Driver Attention Warning (DAW)
Safe Exit Assist (SEA)
Highway Driving Assist (HDA)
Rear Cross-Traffic Collision-Avoidance (RCCA)
Rear Occupant Alert (ROA)
Ultrasonic Rear Occupant Alert (Ultrasonic ROA)
Lane Follow Assist (LFA)
Not many brands include this many safety feature options period, let alone at no extra cost to the buyer. But Hyundai is ahead of the game here, offering 12 driver-assist features for free. Thanks to these features, the 2021 Hyundai Palisade has an overall 5-star NHTSA Overall Safety Rating, along with making it on the IIHS Top Safety Pick+ list. This, combined with quilted Nappa leather seating and a built-in intercom system, makes this model the best used family-friendly SUV around.
Why Buy CPO?
Why buy a CPO model when you can just buy a brand new one? That answer is simple. You can save thousands of dollars by purchasing a CPO, and truthfully, you're not sacrificing much to do so. Most CPO models have low mileage, all CPOs come with long-term warranty protection, and some even have less than 10,000 miles on them! Yet, you'll still get a large discount on these, and oftentimes, a lower interest rate.
Does Cheaper Mean "Worse?"
Viewing this list, you may be tempted to break out of your budget and purchase the newer model. Don't make a fear-based decision. The truth is that there are some really great and cheaper, older models out there. It's just a matter of sorting through the lemons and finding the right best used car dealership in Atlanta. We've got some tips to help you do just that.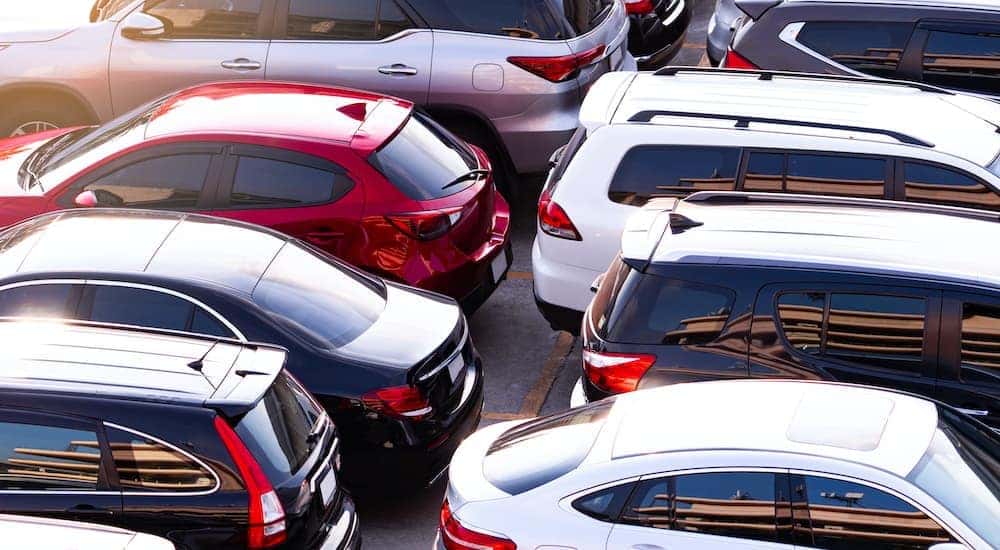 Tips for Buying a Used SUV
The first thing to remember when buying a used vehicle in general, but especially older models, is to make sure it includes a CARFAX report. Don't just take our word for it. When a used dealer won't show you the vehicle's history, you're not in safe hands. At Gwinnett Place Honda, we make sure to provide a free CARFAX report with every used vehicle listing on our website.
Secondly, when you're buying a newer used SUV, it's best to stick with buying a CPO. You'll get low mileage, reliable warranties, and minimum to no wear and tear. Plus, a CPO model comes with an intense multi-point inspection, so there are no surprise problems directly after your purchase. When you buy CPO, you can be certain that you're not just buying a newer used car that someone traded in because it was a dud.
When you're trying to pick the best SUV, pay attention to standard features, tow capacities, and fuel economy above all other specs. But most importantly, remember the models we showed you today!