It's All Good News At Honda For 2021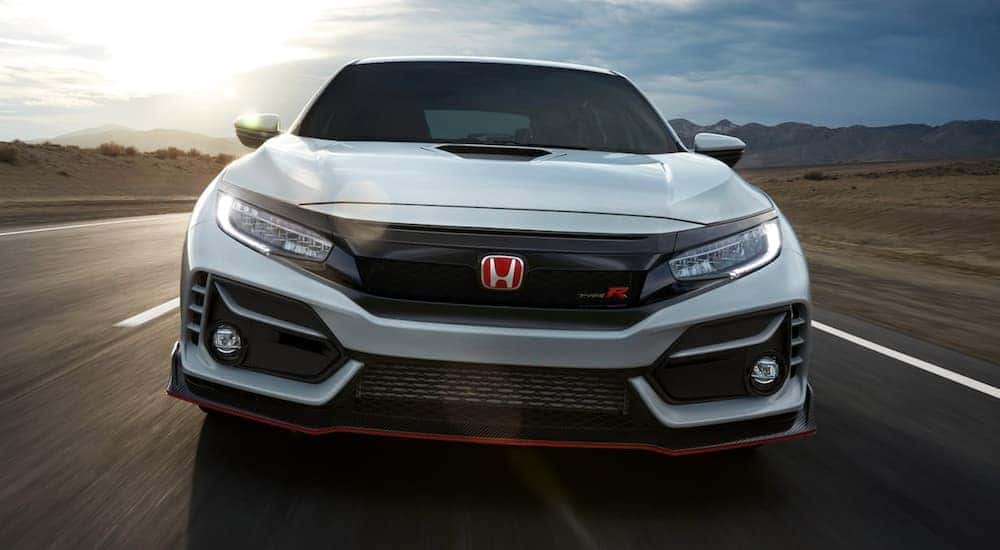 Successfully engineering a vehicle that marries advanced technology, performance, and good looks is the mission of every automaker, but the other driving (no pun intended!) factor that pushes them to innovate is demand. When a car captures the hearts and minds of so many buyers that it transcends its category and creates a buzz of interest, that's when they know they've hit the sweet spot. No automaker has had more of these home runs than Honda, and they've been working hard to carry on this tradition with several 2021 models that you'll definitely want to see and drive. Step one? A quick search for a "Honda dealer near me?" Then head on down to view the lineup of 2021 Honda vehicles.
But first, what is the company's overarching goal for the car-buying public? We know that Honda builds class-leading cars, trucks, and SUVs, but the company is also a pioneer in the electric and hybrid vehicle space. Interestingly, Honda's pursuit of Electric Vehicle (EV) technology is more about achieving optimum fuel efficiency than a specific goal of electrifying all vehicles. Honda CEO Takahiro Hachigo stated as much in an interview with Automotive News Europe when he said, "The objective is not electrification, per se, but improving fuel efficiency."
We can look at Honda's 2021 lineup with that goal in mind and better understand how the 2021 models will reflect their mission, even in performance car categories. We won't cover everything that's changing for 2021, because the automaker is likely to tweak each vehicle in its large lineup, but let's take a closer look at some of the highlights that you can soon expect to roll into our Duluth dealership.
2021 Honda Odyssey
The newly refreshed Honda Odyssey minivan is ready to continue quietly serving the needs of busy families everywhere. While many have decided to ditch the minivan in favor of an SUV, those who do not care about the societal ribbing associated with driving a minivan are secretly laughing all the way to the soccer field. Why? It's simple. Minivans, especially the Odyssey, make everything easier. They're designed specifically to help families with the complicated and messy process of managing time, hauling gear, and keeping your progeny safe and entertained while running around town.
How? With thoughtful applications of technology. For example, the 2021 Honda Odyssey now comes standard with a rear-seat reminder on all trims. This reminder alerts the driver to check the rear seats after the car is parked and turned off if the rear doors were opened or closed prior to departing. This is a safety feature that Honda has thoughtfully included to give exhausted parents a little more help exactly when it's needed. On the Touring and Elite trims, drivers can also count on a rear-seat view on the rearview camera. It's a family-friendly helping hand.
Also new on the 2021 Odyssey are LED headlamps across the entire model lineup, which give the front end a pretty cool appearance; 2nd-row fold-flat seats that are easy to adjust and remove; and a refresh of the vehicle's exterior, which includes those LED headlamps and an updated grille. Most importantly, Honda has included its Honda Sensing driver-assist and safety systems as standard on all Odyssey trims. These include lane-keeping assist, adaptive cruise control, which helps drivers keep a safe distance from the vehicle ahead, and forward collision protection, among other systems – all designed to keep you and your precious passengers safe in all driving conditions.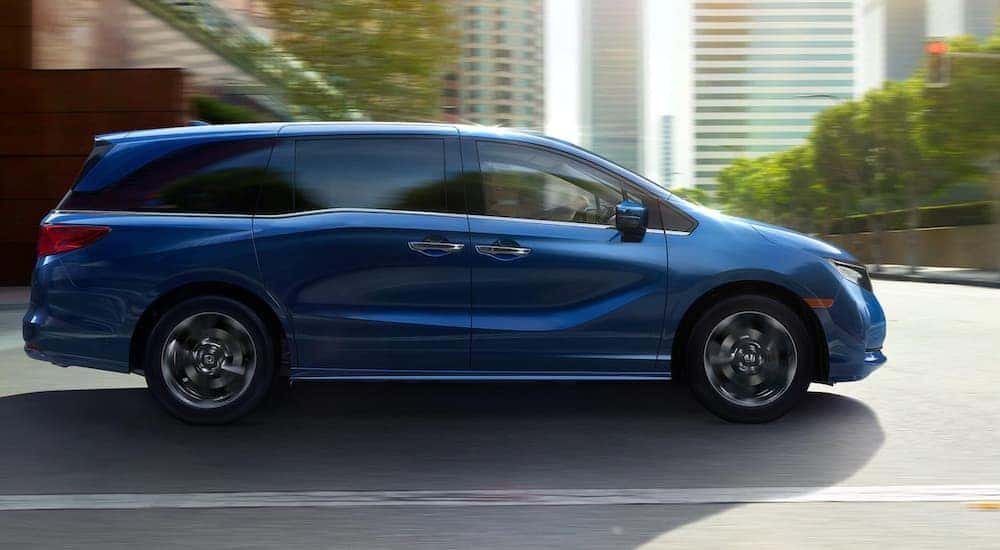 2021 Honda Civic Type R
The 2021 Honda Civic Type R is not your typical Civic. In fact, if you associate the Civic with practicality and affordability, it's time to disavow yourself of these notions. This is a racetrack-ready vehicle designed solely for heart-thumping performance. It's everything a typical 2021 Honda Civic isn't, all the way down to the color choices, yet it also enhances the Civic's core appeal because it's just that cool.
Honda knows a thing or two about building race cars. The company enjoys a long history of racing achievements, and it put that know-how into the Civic Type R, continuing its racing tradition in a street-legal way. Beginning with performance, Honda's in-line 4-cylinder turbocharged engine puts out 306 hp and 295 lb-ft of torque, meaning this car delivers serious performance, both off-the-line and at speed. And while it may still carry the Civic name, the Type R boasts a completely redesigned suspension and improved aerodynamics designed to keep you on the road and help you through corners.
New for 2021 is a Limited Edition version of the Type R. The Limited Edition includes an exclusive Phoenix Yellow color and 46 lbs of weight reduction. Other improvements include 20-inch BBS forged-aluminum wheels with track-ready Michelin Pilot Sport Cup 2 tires, and retuned dampers and steering. While it may not seem like much on the surface, these improvements add up. The Limited Edition is designed to win races. Period.
2021 Honda Pilot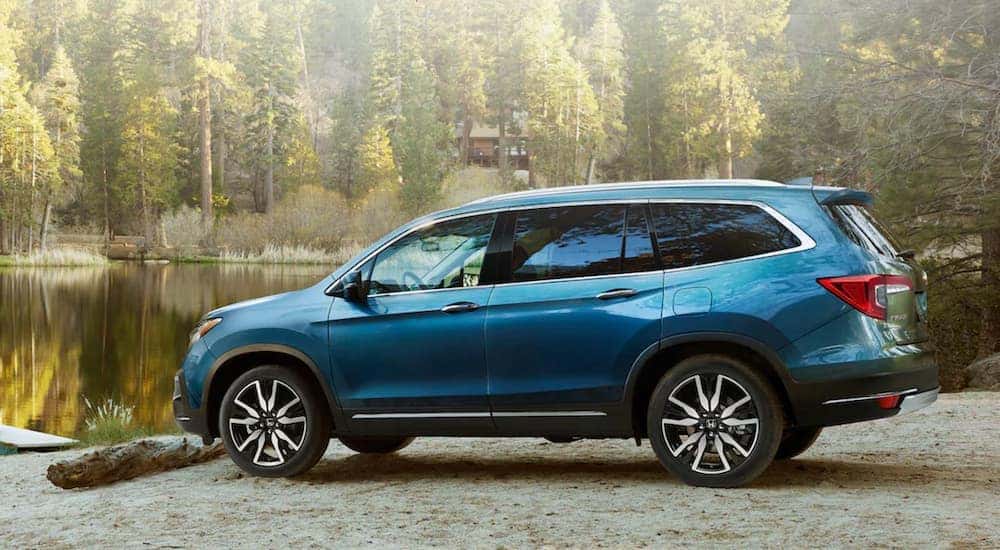 If you can't bring yourself to buy a Honda Odessey, then the 2021 Honda Pilot might be for you. While it does not have quite the interior room or accessibility, it offers comfortable seating for up to eight passengers. This is a family SUV designed for comfort and utility, and with options such as rear captain's chairs and leather seating throughout, you can truly configure the Pilot in exactly the way it works best for you. Couple that comfort with an available WiFi Hotspot and Honda's clever CabinControl app, and you'll be in heaven, customizing the temperature, dialing in your favorite tunes, and staying connected while on the road.
Taking technology a little further, the Honda Pilot is available with a HondaLink subscription service, which gives you app-based control over locking and unlocking the doors, checking fuel levels, and even receiving Amazon packages via in-car delivery. HondaLink also helps you locate your car if you happen to forget where it's parked (don't be embarrassed – it happens to the best of us), and it can sense a collision and notify a trained agent who can send emergency services.
The Pilot comes in seven distinct trims: the base LX, the EX, the EX-L, the Special Edition, the Touring, the Elite, and the special Black Edition. Upgrading to this top trim gives you black exterior accents, special 20-inch black alloy wheels, and more. Honda makes it easy to decide which trim is right for you. Its step-up trim line process relies on the addition of more equipment at each level instead of providing packages to add to lower trims. In other words, it's less confusing. For the most part, an option either is or isn't available at a specific trim level, and if you want it, you need to move up.
Overall, Honda plugs along with consistent, goal-driven missions that they infuse into every car. The company embraces new technology and uses it to develop game-changing systems that keep you safer and more entertained while driving. It's that unwavering commitment to excellence that drives the company to push the envelope throughout all the categories in which it competes. You want a car that's built by a company with these beliefs because you'll enjoy the ownership experience more and likely benefit in other ways, like higher resale value and fewer trips to the dealership for maintenance. Reliability and affordability have never looked so cool.