Buying Certified? Consider These Honda Models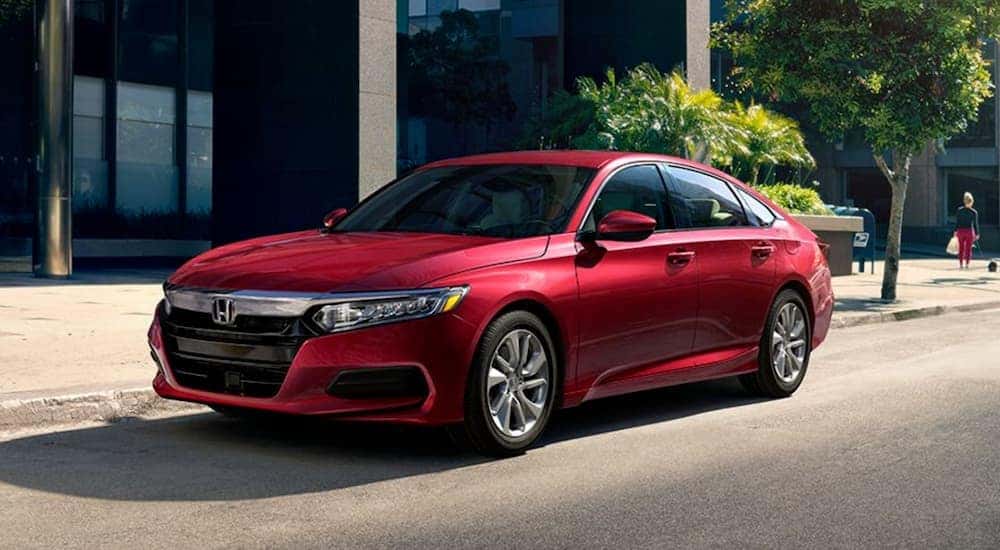 The more time goes on, the more we've noticed a trend where customers are more thrilled about our Certified Hondas for sale. Acting as the proverbial middle-man – Certified Pre-Owned (CPO) vehicles have bridged the rather wide gap between brand new and pre-owned models. The benefits are as clear as day, but you're here because you want to know more about which models to consider if you're dipping your toes into the Honda Certified market. Whether this is your first Certified vehicle or not, we've gathered a few popular options regularly found at fantastic prices, which we guarantee will have a little bit of something for everybody.
When it comes to the HondaTrue CPO program, there's no shortage of choice. However, the three vehicles we've selected to highlight are the Civic Sedan, the Accord, and the CR-V. Here, we have two of Honda's most popular sedans and a capable and spacious SUV model. In case you didn't know, Honda categorizes its CPO program under three sections: HondaTrue Certified+, HondaTrue Certified, and HondaTrue Used.
Vehicles under the 'HondaTrue Used' banner focuses on models released in the last ten years. This designation entitles you to 100 days/5,000 miles of coverage, but if you want the true CPO experience, you are going to want to look for a vehicle under the other two branches. HondaTrue Certified can cover a vehicle from within the last five years, and lastly, HondaTrue Certified+ includes models from the past two years. This flexibility gives you many different opportunities to get a CPO vehicle with a host of benefits in a price range that works for you. We have a rundown on each of the three vehicles we've selected to give you a better understanding of what you can expect from your purchase.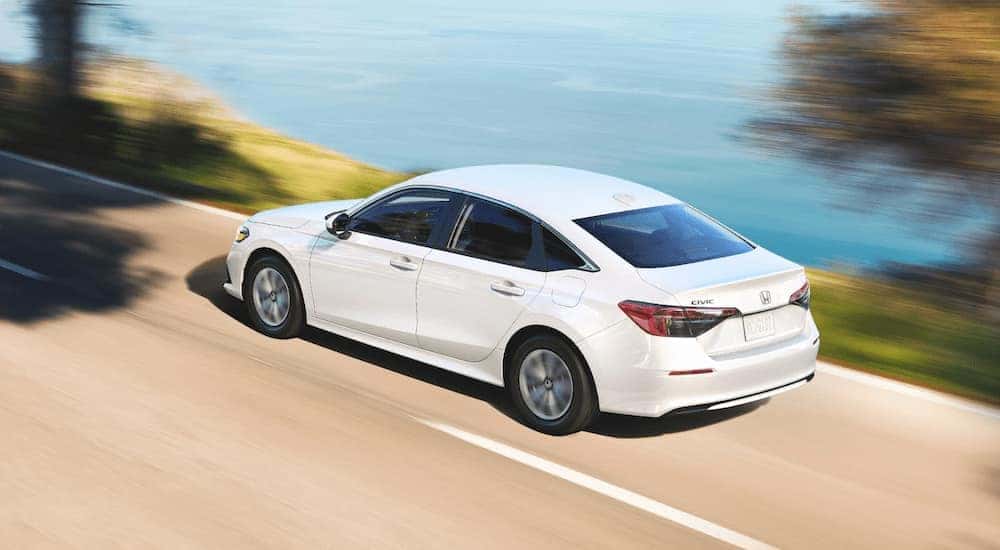 Honda Civic Sedan
The Honda Civic Sedan is one of Honda's most popular sedan models around, having hit the scene back in 1972. Since Honda CPO vehicles can stretch back as far as ten years ago, your Civic Sedan will be from either the ninth, tenth, or eleventh generation. Starting back with the 2012 Civic, which will save the most money, you'll get a performant and feature-rich package. With your 2012 Civic, you can opt for a manual or automatic transmission, and these models can output 201 hp and 170 lb-ft of torque. Sure, you won't be getting newer features such as an infotainment display, Apple CarPlay, Android Auto, etc. However, Bluetooth appears in this model, so taking phone calls is still possible.
If you're interested in purchasing a HondaTrue Certified vehicle, then you'll be getting a Civic Sedan from the tenth generation. The 2017 Civic Sedan was released a year after the refresh, and it was a monumental leap over the prior generation. Not only is all of the tech better, including the aforementioned Apple CarPlay and Android Auto, but performance could be achieved via a turbocharged engine or a 2.0L I-4 that is highly efficient.
Looking for a HondaTrue Certified+ vehicle? The 2021 Civic Sedan is an option you might find on our CPO lot, and it's a clear evolution. An available turbocharged 2.0L I-4 engine can give you 158 hp and 138 lb-ft of torque, the tech is top-notch, and HondaSensing comes standard. That last one is important because Honda Sensing is relatively new, and the appeal is a handful of advanced safety features coming standard with your vehicle.
Honda Accord
The Honda Accord shares a similar history to its sedan sibling – the Honda Civic Sedan. Released only four years after the Civic Sedan, the Accord entered the scene as a larger and stronger alternative. Because of its longevity on the market, there have been ten generations of the Accord, and in the CPO market, you'll find an Accord from either the ninth or tenth generation. However, the Accord saw a mid-cycle refresh in 2021, so the HondaTrue Certified+ program can secure you one of these models instead if you opt for it.
Starting in 2013, the ninth generation of the Accord brought a host of features surrounding comfort, safety, and performance. Like the Civic Sedan, the Accord can be purchased with manual or automatic transmission, and the available 3.5L V6 engine will output 278 hp and 252 lb-ft of torque. Once the following generation came around in 2018, the Accord received a new set of powertrains, with the larger turbocharged engine retaining much of the V6's performance and fuel efficiency.
This generation of the Accord also brought with it a more feature-packed infotainment center, including the venerable Apple CarPlay and Android Auto, which had gained new heights of popularity around this time. And the 2018 Accord brought a 12-way power-adjustable driver's seat to replace the 10-way seat from the prior year, among other relative changes. The aforementioned 2021 mid-cycle refresh made most of the infotainment features we just discussed standard as opposed to an available extra.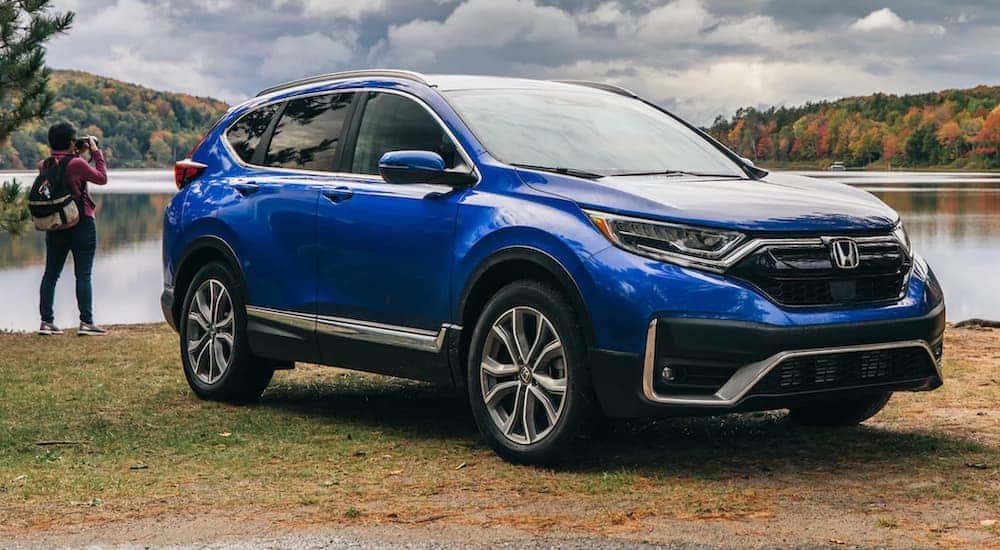 Honda CR-V
For drivers who are interested in a CPO Honda SUV, the CR-V will suit you nicely. Where the HR-V would be released later and would take a timely hiatus in the mid-2000s, the CR-V has remained a constant success for Honda. Within the CPO program, you'll be looking at two generations of the CR-V, the fourth and fifth. On the cheaper side, the 2012 CR-V was the first model to be released within the fourth generation of the titular Compact SUV, and it brought forth a surplus of new features.
Models between 2012 and 2014 all come standard with a 2.4L I-4 engine that produces 184 hp and 163 lb-ft of torque, and this was increased to 185 hp and 181 lb-ft of torque from 2015 to 2019. However, a turbocharged 1.5L I-4 became optional from 2017 to 2019, which has 190 hp and 179 lb-ft of torque. As of 2020 onwards, this engine would become the standard configuration for the CR-V.
And, of course, the CR-V gives you that familiar SUV size. Although categorized as a "Compact SUV," the CR-V feels spacious to sit inside, and the available cargo space impresses with its total of 75.8 cu.ft. of room. Granted, this is when the rear seats are folded down, but even when they're not, the CR-V gives you up to 39.2 cu.ft to store your bags, groceries, and anything else you'd want to put in the back of your car.
The Best of the Best
The best part about the CPO program is that you'll find far more than simply three models on sale. However, the three we have chosen are perfect examples of the kinds of CPO vehicles you'll find on our lot. Like we said, CPO vehicles have become massively popular in recent years, and it's up to dealerships like us to meet the demand of enthusiastic Honda shoppers. At Gwinnett Place Honda, we gather some of the most popular Honda models that have undergone Honda's extensive CPO pre-requisite list.
At our dealership, you'll be getting the best deal around thanks to our hard-working staff of Honda enthusiasts who will have answers to your Honda-related questions. We encourage you to come to visit our dealership, speak with one of our friendly sales representatives, and take a walk around the lot to window shop to your heart's content. We're located at 3325 Satellite Blvd in Duluth, GA, directly across the road from the Satellite Shops I Shopping Mall and the Bella X'press Salon, so come visit us today.