4 Used Honda SUVs You Need To Test Drive Now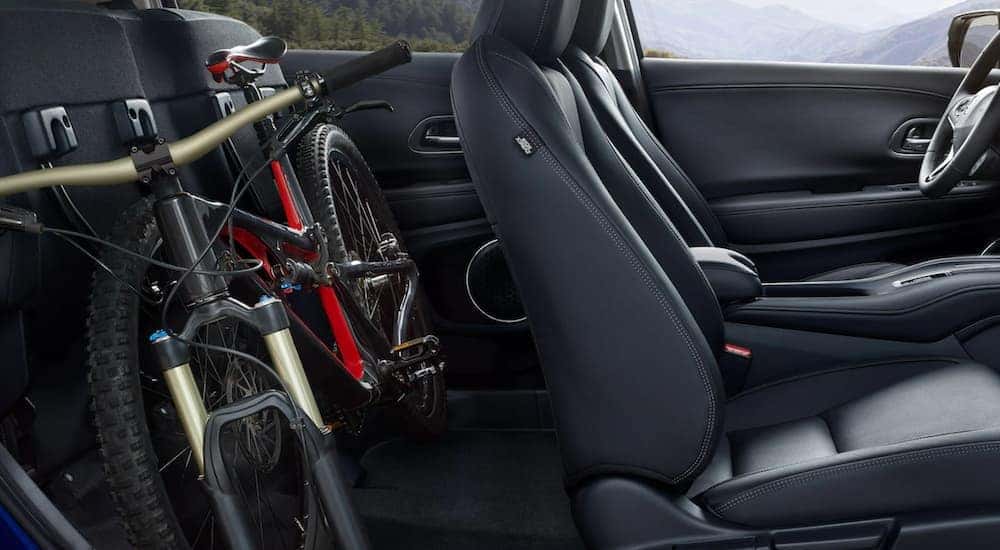 If you typed "Atlanta Best Used Cars" into the search engine, you landed on an article about Hondas for a reason. This is especially true if you're looking for the best used SUVs. Since you're looking for SUVs, we expect that you want passenger and cargo space, affordable mileage, and a safe all-weather driving experience. Oh, and safety. You'll definitely want safety, especially if you're purchasing an SUV for your family. Whether you're hauling children, animals, or your great-grandma, Honda SUVs are incredibly safe and spacious. To back up our words with facts, we're giving you information on four Honda SUVs, including the model year that gives you the best deal for your money. We'll rank them by affordability, starting from cheapest to most expensive. Let's get started!
The HR-V
This is Honda's entry-level SUV. It is a fairly recent Honda model, starting in 2016. We recommend looking into the pre-refresh 2016-2018 models, as they're affordable yet modern. It offers up to 141 horsepower and can get excellent fuel economy. This model carries up to five passengers, with 100 cubic feet of total passenger space. Depending on what trim you get, your safety features vary from classic options like a backup camera, rear child safety locks, and multiple airbags, all the way to Honda LaneWatch.
We really think this model is best for single drivers or small families, especially if you're looking for an all-weather commuter. It's not ridiculously spacious if you have a large family, but if you only have one child, or you're living the bachelor's life, it offers more space than you'll ever need. Overall, a used Honda HR-V is a great small and affordable SUV option.
The CR-V
If you're still looking for affordability with slightly better specs, we recommend a used Honda CR-V from the years 2014 to 2015. It's slightly older, so you'll get it for a lower price, yet it offers a bit more passenger space than the HR-V, and it can even tow up to 1,500 pounds. We like this model best for those who have small families. It's a safe, compact, yet roomy vehicle. The higher trims include heated seating, remote keyless entry, and a dual-zone automatic climate control system, so there's plenty of room to splurge and make this a more luxurious purchase.
This model is also a bit more versatile than the HR-V, thanks to its ability to tow if needed. If you need to carry kayaks, an ATV, lawnmower, or mobility vehicles, it's perfect. You can use smaller trailers with the CR-V if you're carrying too many passengers to utilize its cargo space. Plus, the CR-V has received multiple awards throughout the years, really emphasizing its reliability. This is definitely one of Honda's best used SUVs.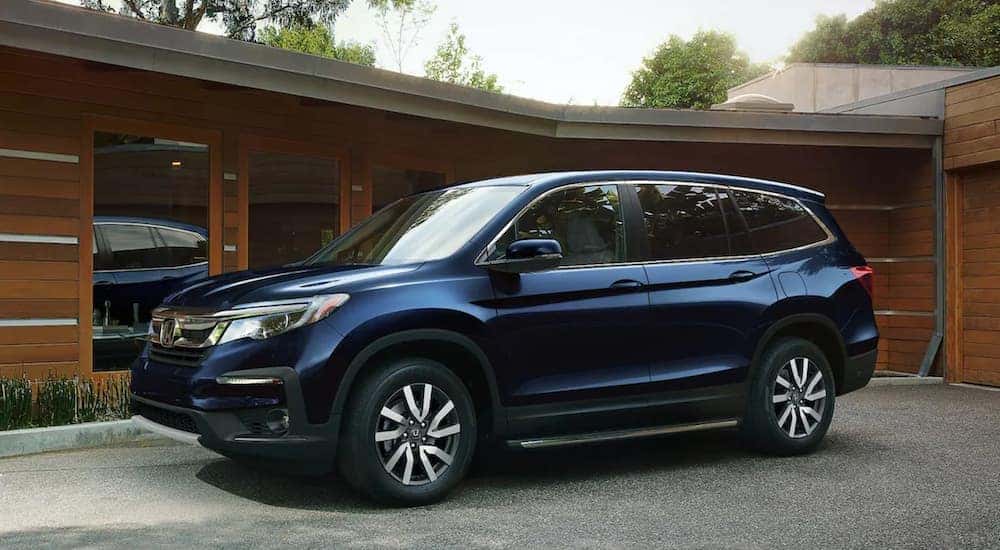 The Pilot
Now, let's get into some larger options. If you need the extra space for your family, the midsize three-row Pilot is a great choice. The 2016 to 2018 Pilot offers over 152 cubic feet of passenger space with seating for up to eight passengers. You can also tow up to 5,000 pounds with this model, and it has 109 cubic feet of cargo space. A used 2016 Pilot can also be found with plenty of driver-assist features. It offers lane keeping assist, lane departure warning, a collision mitigation braking system, a backup camera, and Honda LaneWatch.
This model also offers several convenience features such as three 12V power outlets, a 10-way power driver's seat, remote keyless entry, a HomeLink garage door transmitter, and push-button start. It includes two front LCD monitors and Bluetooth streaming audio. The base sound system even includes a subwoofer for fuller bass frequencies, and the top trims offer a 540-Watt premium sound system with ten speakers. Overall, buying a used Honda Pilot is a good way to get more space and technology for an affordable price.
The Passport
If you're looking for a newer used vehicle, the Passport is ideal. This model debuted in 2019 and is based on the same platform as the Pilot. Unlike the Pilot, the Passport only has two rows of seating for a total of five passengers but offers far more cargo space. This makes it a great option for small families who need lots of room for sports equipment, camping gear, or other items. And like the Pilot, the Passport offers a capable all-wheel drive system and can tow up to 5,000 pounds, adding even more utility and making this SUV a true passport to adventure.
A used Honda Passport is also extremely comfortable, and higher trims include heated and ventilated front seats, a heated leather steering wheel, heated rear seats, and more. They also come with driver-assist features such as adaptive cruise control with traffic-stop-go, which adjusts your speed to the flow of traffic. The collision mitigation braking system, cross traffic monitor, and forward collision warning further add to the Honda safety experience. Like other models, the Passport offers lane keeping assist and departure warning as well, along with tire pressure monitoring. While you'll still need to pay attention to the road, the Passport makes it easier to be a human. Sometimes, mistakes happen, so these features and warnings really help keep you focused on what's most important when driving: the road.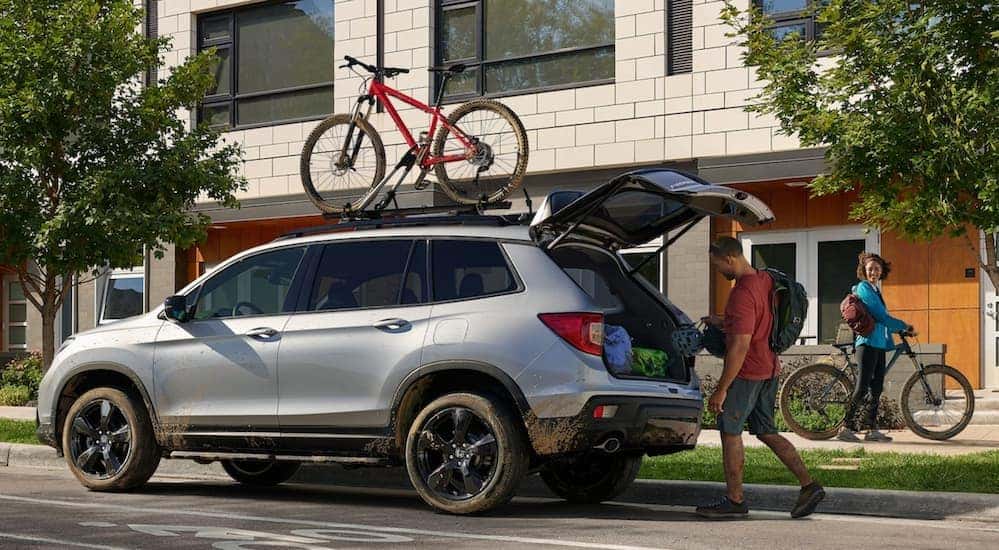 How Do I Pick Which One Is Best For Me?
This really depends on why you want a used Honda SUV. If you need to fit more than five people, then the three-row Pilot is obviously the best choice for your needs. However, choosing between the three different two-row models can be more difficult. All of them offer plenty of comfort, utility, and all-wheel drive, but there are some things that set them apart.
If you need tons of cargo space and solid towing, then the Passport is the model for you. This midsize design can handle pretty much anything when it comes to hauling all the stuff you need for daily life or weekend adventures. On the other hand, if you are primarily looking for an affordable commuter or daily driver that is good on gas, then the HR-V is probably the model for you. This is especially true if you need something that can squeeze into tight city parking spaces.
Finally, the CR-V is a jack of all trades that occupies a sweet spot in SUV design. While it doesn't have the cargo space and towing capacity of the Passport or the nimbleness and efficiency of the HR-V, it provides an excellent blend of both and is easily one of the best Atlanta used cars. There is a reason why the CR-V has been Honda's top-selling SUV model for years, and if we had to pick one Honda SUV to recommend to you, we'd choose the CR-V.
About Honda
Honda is an incredibly diverse company that has built everything from motorcycles to race cars. From the very beginning, Honda has been focused on innovation and safety. Reducing pollution and fuel consumption is also very important to the company, meaning that you'll help save both money and the environment when you buy a Honda. Even used Hondas offer several hybrid options, including the CR-V, and Honda is equally dedicated to using alternative energy for its factories, further promoting a safer future for our planet. Here at Gwinnett Place Honda, we are proud to offer such fine vehicles to Atlanta-area drivers.