Your Guide to the Newly Updated Honda Passport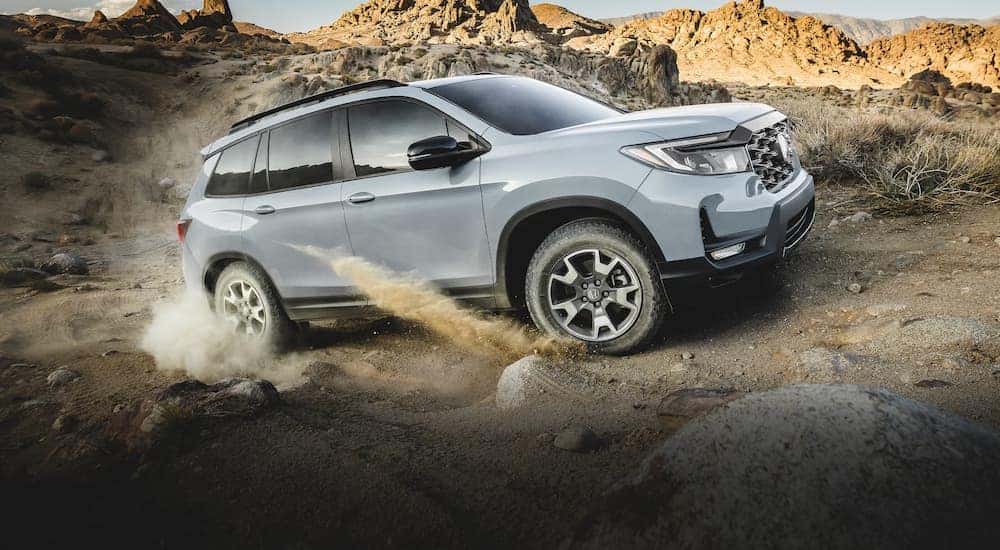 Vehicle shopping can get overwhelming fast. Even when you already know that you want an SUV, the options are so plentiful that it can be hard to know where to start. This is a good time to start looking for a Honda dealership in Atlanta, GA, to check out the 2022 Honda Passport. The Honda Passport has a long history of changes, originally starting out in 1993 as a modified Isuzu Rodeo. That said, it quickly developed into its own unique model and competed on even ground with other early SUVs, such as the Chevrolet Blazer and Ford Explorer, helping to pave the way for the current popularity of the segment.
Years have passed since its initial release, and the Passport is still going strong. Now, the 2022 model manages to be more stylish and practical than ever before while maintaining those beloved off-roading perks that come along with owning a midsize SUV. In fact, the Passport goes above and beyond your typical midsize SUV off-road capabilities.
Thanks to Honda's new TrailSport trim, the Passport now acts as the ideal adventure-mobile. The TrailSport trim includes off-roading performance features and aesthetic perks that make it more rugged and durable than previous models. There's a lot more to this model than just all-terrain tires and all-wheel drive capability; it's all about performance.
In addition to its new off-road capable trim, the Passport has seen some major upgrades as a whole. The 2022 Honda Passport is a diverse model that appeals to many audiences. Whether you need family-friendly space matched with safety technology, off-road capability, or simply a model to take camping on the weekends, there's a new Passport out there for you. If you weren't sold on the Passport before the 2022 model, get ready to change your mind, fast. We've got your guide to the newly updated 2022 Honda Passport.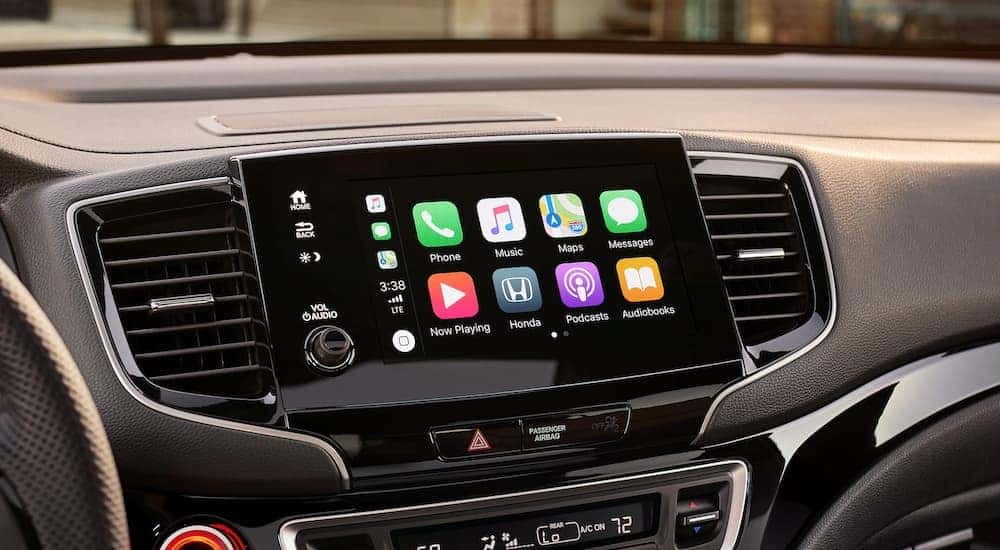 Performance Specs and The Off-Road Ready TrailSport
You've likely heard of Jeep's famous "Trail Rated" badging, right? When you hear the term "TrailSport," just think of it as Honda's impressive new trail-rated trim. In short, the Passport TrailSport is Honda's introductory off-road prowler.
While the Passport has a history of your basic 4×4 capability, the 2022 model comes with all the fun fixings that true off-roaders love. Even if you don't get the TrailSport trim, you'll still get up to 8.1 inches of ground clearance, while higher trims include flashier 20-inch wheels. The TrailSport, on the other hand, includes 18-inch wheels with larger all-terrain tires that are unique to the model.
Just like previous models, the new Passport includes a standard 3.5-liter V6 engine paired with a 9-speed transmission, so you're definitely not falling short on power. This leads to a 280 horsepower rating, with 262 pound-feet of torque Thanks to this power, you can tow up to 5,000 pounds with a Honda Passport, and it doesn't have to be a TrailSport trim to reach this power level!
There are definitely some fun perks to owning the TrailSport, though. When you opt for the TrailSport, you'll get the standard V6 engine, plus Honda's i-VTM4 torque-vectoring all-wheel drive technology paired with the Intelligent Traction Management system. Simply put, these two technologies work together so that you can confidently tackle dirt, gravel, and mud-covered roadways. Heading off the pavement is no problem for the Passport TrailSport.
The TrailSport even comes with its own unique styling, including its own unique grille, orange accents, special badging, and thicker bumpers. Even the model's interior includes orange stitching on leather seating, along with orange "TrailSport" logos. To improve maneuverability, the TrailSport rocks a wider track than before. When you put a 2021 Passport and a 2022 Passport side by side, you'll be amazed at the aesthetic changes. Honda has taken their buyer's constructive criticism and improved upon it even further.
Let's Talk About Safety!
Honda is known for its innovative safety technologies, and the new Passport is no exception to the rule. Everyone loves a good standard safety feature or two, but in this case, you'll get five standard features no matter what trim level you choose. When you get anything about the base-level trim, you'll get up to seven safety technologies. Here are the following five standard safety features:
Forward Collision Alert
Automatic Emergency Braking
Adaptive Cruise Control
Lane Departure Warning
Lane Keep Assist
The addition two features are as follows:
Rear Cross Traffic Alert
Blind Spot Monitoring
What exactly do each of these do? Let's start from the top. Forward Collision Alert works with Automatic Emergency Braking to help prevent collisions. You'll receive a warning thanks to FCA, but if you don't heed to it quickly enough, Emergency Braking kicks in to stop the car for you automatically.
Adaptive Cruise Control is unlike regular cruise control technologies. This feature keeps a safe distance between you and the vehicle ahead of you, even if that vehicle comes to a stop. Until you pass them, your vehicle will stay at a reasonable speed. This removes the need to restart your cruise control every time there's a change in traffic flow.
Lane Departure Warning is there to let you know when you're drifting into the wrong lane or off the roadside, while Lane Keep Assist actually re-centers you in the lane as you begin to drift. Of course, when you're using your turn signal, these features will be bypassed.
Rear Cross Traffic Alert is a handy feature that helps protect you in cramped parking lot situations. It can monitor the aisle behind you, alerting you of vehicles that you can't ordinarily see. This technology is able to do this thanks to specialized side-looking radars. Blind Spot Monitoring is more helpful on highways, alerting you when there's a vehicle approaching you from the left, right, or both. The appropriate exterior mirror will indicate which side the vehicle is approaching from and when.
These are features that many brands make buyers spend extra on. However, Honda is giving them to you for no additional cost. Whether you're commuting to work or off-roading with friends, these features can help make your driving experience more secure.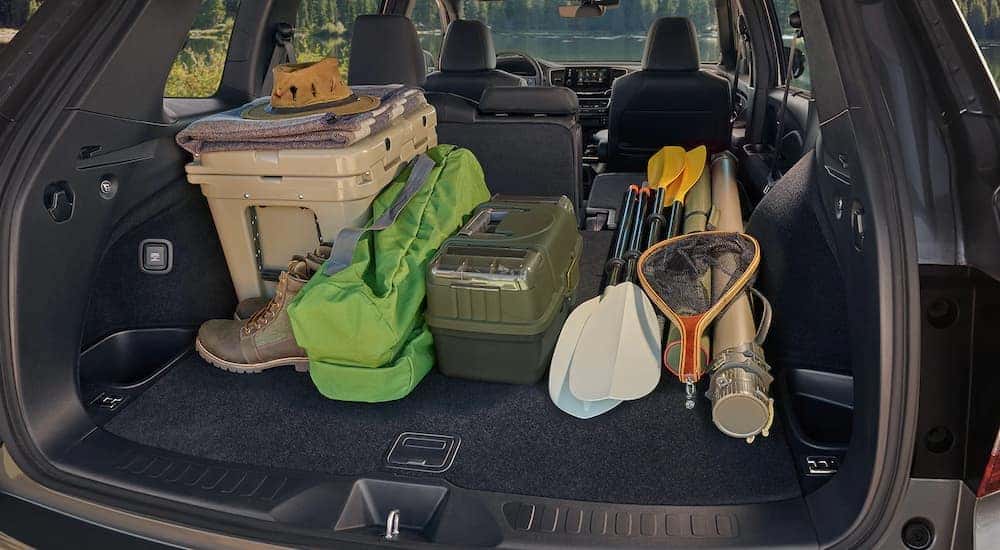 Family Convenience
While hitting the trails is fun, you may want a Passport for its family-friendliness as well. When the seats are folded down, you'll get up to 100.7 cubic feet of cargo space, which is quite generous for its class. There are also several storage cubbies spread throughout the interior as well. In addition to convenience, you'll get an 8-inch touchscreen infotainment system that includes Apple CarPlay and Android Auto. So, while the kids may drive you nuts, they'll definitely stay entertained.
Want to hit up the high-tier trims? Let's not forget about this model's Bluetooth connectivity, along with its Wi-Fi hotspot, built-in navigation, and numerous charging outlets. These features paired with the Passport's leather seating make it feel like a luxury model, even with its off-pavement powers. It's safe to say that the kids certainly won't feel embarrassed when you pick them up from school in a 2022 Passport. Most importantly, they'll benefit from fun tech features and efficient safety technologies on the ride home.
Don't Pass Up the Passport!
The perfect midsize SUV offers a nice balance of capability and modern technologies. That's why when it's time to hit up the dealership, you need to make sure that the new 2022 Honda Passport is on the top of your list. This model has it all; interior space, off-road capabilities, standard safety features, and optional luxury tech upgrades. Essentially, you can make this model as simple or as fancy as you'd like without sacrificing power.
Gwinnett Place Honda proudly serves as your home for the new Honda Passport, and we'd love to show you every trim level and color we've got on the floor. Whether we already have your dream model here, or we have to do some searching to find it, we make the buying process easy. The Gwinnett Place team can't wait to help you take home the perfect new 2021 Passport for you and your family!