Top 8 Most Reliable Used Cars from Honda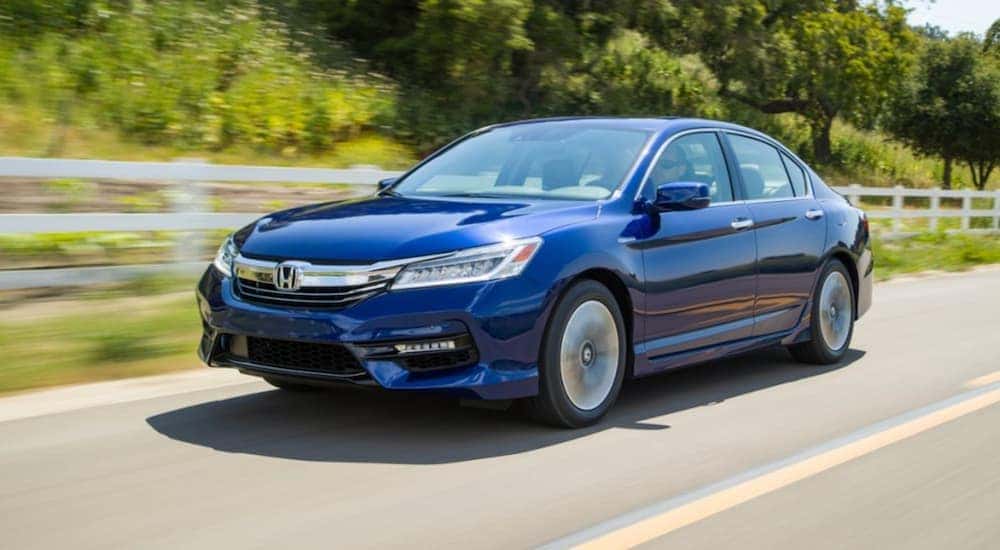 When it comes to buying a used car, Honda is well-known for having some fantastic options. This is especially true if you need to stick to a tight budget. You can easily find used cars for sale that are under $15,000 or even $10,000, and they don't have to be 20-year-old vehicles either.
Here at Gwinnett Place Honda, we've got a fantastic selection of pre-owned Honda vehicles that include some great features and aren't that old. Who said you had to pay top dollar for a comfortable, reliable set of wheels? You can get the best of both worlds right here at our dealership. Now, let's explore some of the most reliable used cars from your favorite Japanese automaker.
#8 – Used Honda Fit (2015 – 2019)
It may interest you to know that you can find a young, lightly-used Honda Fit hailing from the 2015 to 2019 model years for under $15,000. This spacious hatchback is technically considered a subcompact vehicle, but don't let that fool you. It can carry four adults comfortably, and there is ample space in the back (52.7 cubic feet) for groceries, bags, sports gear, and other items. It's also very reliable and safe, with plenty of advanced features to protect in the case of an accident. Finally, the fuel efficiency is stellar with any used Honda Fit models from 2015 until 2019.
#7 – Used Honda Ridgeline (2006 – 2014)
Need a truck? You're in luck! A used Honda ridgeline from 2006 to 2014 will work hard for you and go easy on your wallet. It features a unique unibody build, all-wheel drive, and a dual-action tailgate. Inside the bed there is even a hidden trunk to safely store items that you want to protect from the elements.
The ride quality is exceptionally comfortable due to the SUV-like body and suspension system, but the V6 powertrain still delivers truck-like performance no matter where you go. The Ridgeline is also a good option for families since it can carry four to five people. And when they're not being used, the rear seats fold up for even more cargo space.
#6 – Used Honda CR-V (2012 – 2016)
If you are looking for a pre-owned Honda SUV, then we've got a good one for you! A used Honda CR-V from the 2012 to 2016 model years will serve you well if you have a small family. Versatile, practical, and very efficient, this fourth-generation model features all-wheel drive for reliability in any weather. If you are the type of person who enjoys adventures and thrill-seeking, this is a solid pick.
Despite good acceleration and a towing capacity of about 1,500 pounds, you will still find yourself getting a pretty good fuel economy. Any CR-V that you get will carry up to five people with 37.2 cubic feet of room behind the back row. If you need more than that, you can always fold the back seats down flat to gain access to 70.9 cubic feet of space.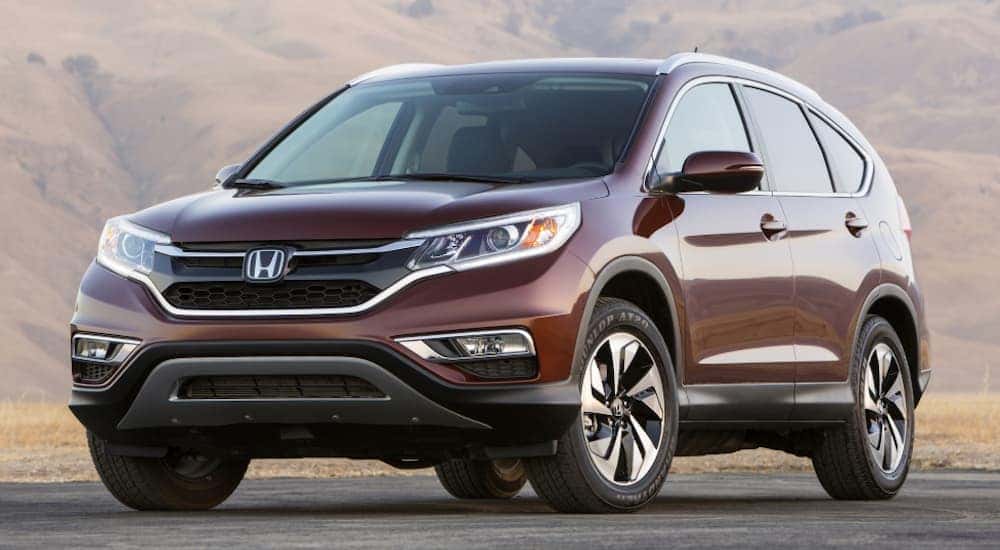 #5 – Used Honda Accord (2013 – 2017)
Another reliable used car on our list is the Honda Accord from the 2013 to 2017 model years. As a mid-size sedan, this vehicle is better suited to folks who like a little more legroom than you will find in the Honda Civic. Available in numerous trim levels, you can easily find one that suits your needs perfectly.
This family-friendly sedan is surprisingly agile and gets great gas mileage. You can even find a used Honda Accord hybrid or plug-in hybrid from this era, which is ideal for people who commute to work every day. But if you are seeking performance, then look for one of the V6 models. The Accord Coupe, in particular, not only offers a sleeker silhouette, but it is also available with a sporty manual transmission.
#4 – Used Honda Odyssey (2011 – 2017)
For large families, there is no better minivan than a pre-owned Honda Odyssey. Our favorite models hail from 2011 to 2017, and they are very reliable and extremely affordable. If you think all vans are boring, think again. A used Honda Odyssey will change your perception of the class completely. In this fourth-generation, the vehicle offers bold styling choices and plenty of safety features.
Each one can seat seven or eight people, depending on the cabin configuration. As for storage, you'll find about 38.4 cubic feet of space behind the third row of seating. If you fold that back row down, you can expand this area to 93.1 cubic feet. Need even more room? No worries! Simply fold the second row of seating down to access the maximum cargo area measured at a whopping 148.5 cubic feet.
If you happen to come across a used Odyssey Touring Elite model, grab it! This top trim comes with a rear-seat entertainment system, a 12-speaker sound system, and a handy built-in vacuum cleaner to take care of messes quickly. With all these features, there is no better choice for a family road trip.
#3 – Used Honda Civic (2016 – 2019)
The most recent production run of Honda Civic models kicked off in 2016. We highly recommend this sporty car as a reliable used model comes in at prices under $15,000. Keep in mind that this petite model is available in three unique body styles, including coupe, sedan, and hatchback (although the hatchback didn't arrive until 2017). For something a bit sportier, be sure to check out the Si and Type R trims, with their upgraded engines and other performance features. That means that you can pick the perfect match to suit your driving needs and personality.
Used Civic models are known for their excellent handling and advanced safety features. They also all feature a sleek, modern interior design that allows them to age gracefully. As for space, the coupe has 12 cubic feet of space in the trunk, the sedan offers 15 cubic feet of space, and the hatch can fit up to 46 cubic feet of stuff.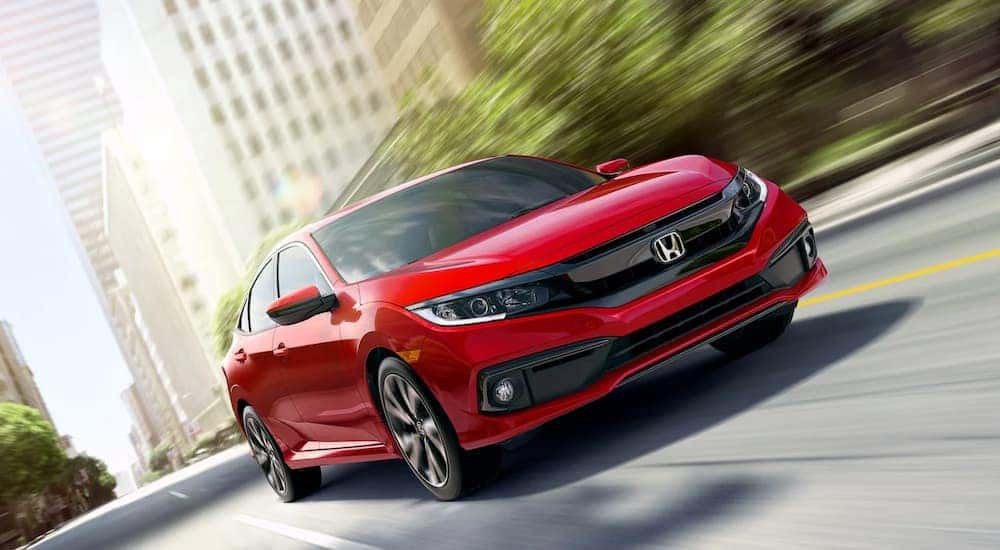 #2 – Used Honda Pilot (2009 – 2015)
We are getting closer to the end of our list, and the used Honda Pilot models from 2009 to 2015 are ranking high. This mid-size SUV is the perfect option if you just can't see yourself driving a minivan. It has three rows of seating for up to seven passengers and 18 cubic feet of space in the back. Folding down the third row will give you 48 cubic feet of space, and folding down both back will open the area up to 87 cubic feet. Finally, it can haul up to 3,500 pounds without breaking a sweat.
#1 – Used Honda Element (2003 – 2011)
Sitting at the top spot on our list is the used Honda Element. We recommend models from 2003 until 2011. As a compact crossover, it's the ideal utility vehicle, and you can get it with all-wheel drive for better performance. Its unique boxy shape makes the vehicle look a bit quirky, and the seating capacity is limited to four.
However, it gives off Jeep vibes with its removable back seats, flexible cargo area, rubber flooring, and water-resistant seats. You may even be able to find one that has been equipped with a pet-friendly package. Whether you like to travel with your dog, friends, or family, this sporty set of wheels is the perfect transport. It's super affordable too, which is why it has earned the top spot on our list.
Find the Best Used Cars for Sale
If you are looking for used cars for sale, we highly recommend that you consider a Honda. These vehicles are reliable, practical, and fun to drive. If you are in the Duluth area, just drop by Gwinnett Place Honda to easily find a used Honda that fits nicely with your budget and needs.