The Evolution of Honda's Best-Selling SUV: The Honda CR-V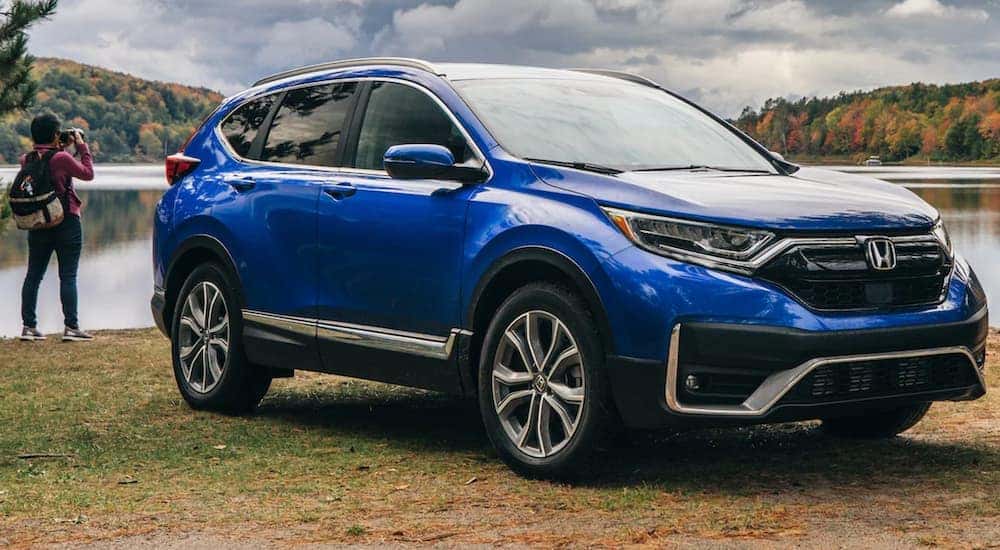 The year was 1997; it was a time when the world grieved the loss of Princess Diana, flocked to movie theaters to see blockbusters like Titanic and Men In Black, and settled in to read a book titled Harry Potter and The Philosopher's Stone by a new author named J.K. Rowling. The year was also momentous for Honda as the automaker answered the growing demand from drivers who wanted a vehicle larger than the Civic without sacrificing efficiency or performance. Enter the Honda CR-V, a "Comfortable Runabout Vehicle" that skyrocketed to popularity and has since led many drivers to search for a used Honda CR-V to meet all their transportation needs.
To fully appreciate everything the Honda CR-V has to offer requires a closer look at its history on American roads and how it's evolved over five generations. Initially dubbed a "bloated Civic" with more versatility, the CR-V has blossomed into the best-selling model in the Honda fleet. Its versatility, durability, reliability, and efficiency certainly have a lot to do with this, as does Honda's dedication to continuously improving this compact SUV to attract drivers of all ages.
First Generation: 1997-2001
Honda set new standards in the automotive industry with the debut of its first compact crossover SUV in 1997. The CR-V wasn't like anything drivers had ever seen before and combined the efficiency of the manufacturer's best-selling Honda Civic with the spaciousness of an SUV. This makes it one of the most versatile models in the Honda fleet and added to its popularity. So, what exactly will you find on the first-generation CR-V?
The 1997 CR-V is only available in one trim – the LX – and comes with all-wheel drive that adds to its capability along with its standard 2.0-liter 126-horsepower engine. Its spacious interior offers ample room for passengers and gear thanks to its folding rear seats and, believe it or not, includes a hide-away picnic table. In 1998, Honda equipped the CR-V with anti-lock brakes and added the EX trim to the lineup. Updates continued into the new millennium with an improved engine offering 147 horsepower in 2001. Honda also introduced the SE trim in 2000, which added a new level of luxury with its leather interior, navigation system, and combination CD-cassette player.
Second Generation: 2002-2006
The CR-V saw many improvements in its second generation, with the addition of luxury features like reclining rear seats, a leather-wrapped steering wheel, leather seating, heated side mirrors, and heated front seats. Honda also adds enhanced safety tools like front and rear side airbags. The powertrain continued to see improvements courtesy of the new 2.4-liter four-cylinder that delivers 160 horsepower and is paired with either an automatic or manual transmission. By the end of the generation, the CR-V was outfitted with satellite radio and delivered better handling and ride quality thanks to suspension and chassis improvements.
Third Generation: 2007-2011
The third-generation of this Honda SUV bid farewell to its hide-away picnic table in exchange for an all-new design. The 2007 CR-V doesn't look anything like its predecessor, thanks to its refined car-like shape and lower height. Honda even moves the spare tire from the rear hatch to under the trunk floor, which caused quite a bit of backlash from loyal CR-V fans.
If you can move past the CR-V's new exterior design, then it's easy to appreciate the vast improvements Honda made to the third generation's performance, features, and technology. The 2.4-liter engine enjoys a significant boost in power to 166 horsepower, and the 5-speed automatic transmission now comes standard on every trim. The models offer a wide range of comforts and features, including updated upholstery or leather seating, wider front-row armrests, side curtain, and passenger-side airbags, Bluetooth capability, a voice-activated navigation system, USB inputs, and a 6-disc CD player.
Fourth Generation: 2012-2016
The controversy from the third-generation redesign saw the CR-V return to its roots for its fourth generation. The CR-V again looked more like an SUV, though the spare tire did not return to the rear door. The engine also saw another round of improvements and now delivers 185 horsepower and 163 lb-ft of torque. The 5-speed automatic transmission remains standard on every trim, along with the option to choose between front-wheel or all-wheel drive.
Honda eliminated the 5-speed transmission from the CR-V in 2015 and exchanged it with a more efficient continuously variable transmission. With improvements to the suspension and interior sound insulation to block the noises of the road, the refreshed 2015 CR-V handles better than ever and delivers an exceptionally quiet and relaxing ride. The upgrades also included a new suite of standard technology features like the 5-inch center display, backup camera, Bluetooth capability, and additional steering wheel-mounted controls for convenience. For CR-V drivers with younger kids, you can add a rear-seat DVD entertainment system as well as automatic, dual-zone climate control that keeps your passengers entertained and comfortable wherever the road leads.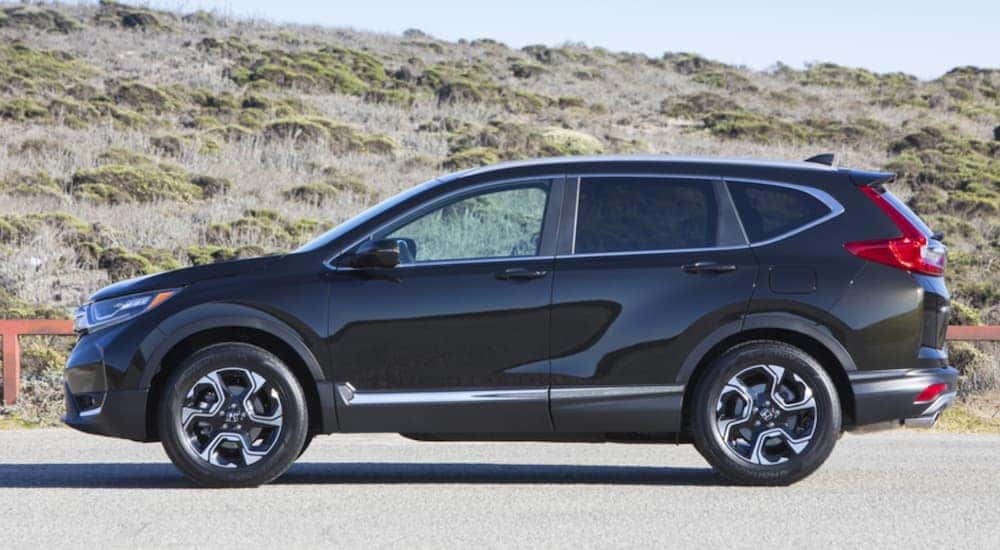 Fifth Generation: 2017-2021
Bigger is better, right? Honda agreed and transformed the CR-V into a larger and more aggressive SUV that looks sturdier and more confident on the road. Sitting taller and on a longer wheelbase, this added room means a more spacious cabin for your passengers and all your gear. From the outside, this new design is complemented with dual exhausts, LED headlights and taillights, a longer hood, and short overhangs.
The fifth-generation CR-V continued to offer the 2.4-liter engine, but higher-tier trims boasted a new 1.5-liter turbocharged engine. Honda also introduced the CR-V Hybrid to the lineup, which marks Honda's first electrified SUV on American roads. The generation also saw the addition of more intuitive technology like navigation, satellite radio, a touchscreen infotainment system, and smartphone integration via Apple CarPlay and Android Auto.
Sixth Generation: 2023?
All eyes are on Honda to unveil the sixth generation CR-V, which is still in the works. The CR-V is Honda's best-selling vehicle and is one of the highest-ranked compact crossovers in the market, which means it has some pretty big shoes to fill. Early spy shots of sixth-generation prototypes reveal that the new CR-V will have a simpler design with a clean mesh front grille and streamlined headlights. Beyond this, Honda has yet to release any details, and that means we'll just have to wait and see how the all-new CR-V will once again raise the bar in its segment.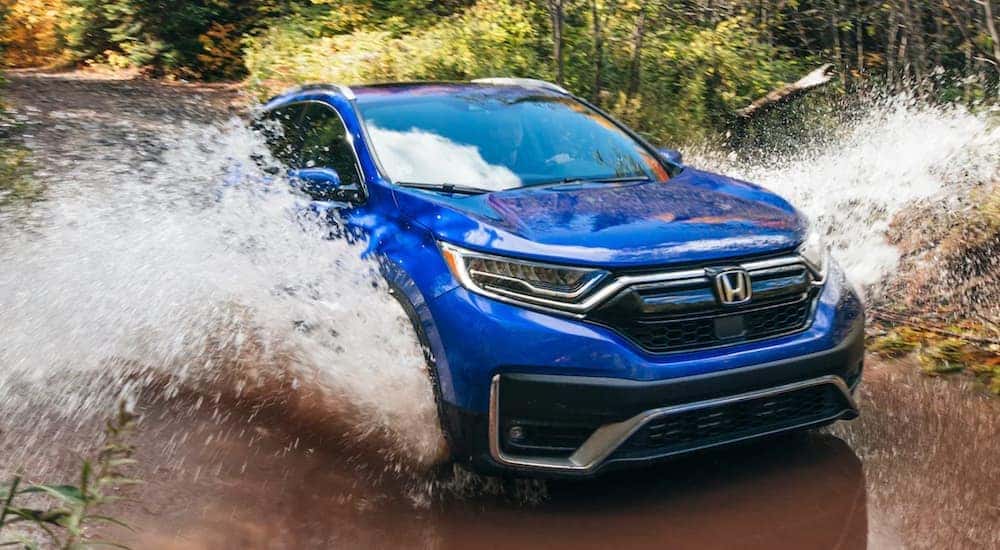 Ready, Set, Start Shopping!
Now that you know more about the CR-V's evolution, which generation are you attracted to the most? The popularity of the CR-V makes it easy to find used models on the lot, but we encourage you to do your homework and find the best CR-V that meets your budget and driving needs. Do you like the looks of the newer CR-V models without the rear-mounted spare tire, or are you more of a traditionalist and prefer the CR-V's original design?
Whatever you're looking for, you're sure to find it in the CR-V. As Honda's best-selling vehicle and one of the top-ranked vehicles in the compact crossover segment, there's no question that the CR-V has a lot to offer. So, what are you waiting for? Adventure is calling, and that means it's time to visit your used car dealer to start shopping for your Honda CR-V!