Old or New, the Honda Odyssey Has Won Our Hearts Forever
Go back to the origins of the Honda Odyssey, a journey that dates to 1995, and you'll find a reliable and practical minivan without a lot of regard for style. A used Honda Odyssey from the 1990s or early 2000s may not grab us visually but remember: the minivan back then was designed to provide safe, reliable transport for families. We didn't ask anything more of it, and it performed its intended purpose better than any other minivan of its time.
Flash forward to today, and the story is very different. The 2022 Honda Odyssey is loaded with tech and luxury features that used to be only seen in luxury SUVs, and its curb appeal is far more dynamic. Unfortunately, some families don't have the money to buy a brand new, fully-loaded Odyssey. Luckily, getting those benefits doesn't require coming up with the cash for a new Odyssey.
With a minivan body style, a few features are a given. First, minivans are people-movers, which means buyers can always expect seating for seven or eight. Even with the generous seating capacity, minivans typically also offer ample cargo space. In addition, minivans sit on car platforms, so seating is easily accessible without having to climb up into the vehicle (like you would in an SUV). This makes working with car seats far easier and is one of the main reasons why young families prefer a minivan over an SUV.
What's not a given are interior finishes, tech, performance, and overall curb appeal. This is where Honda has most impressively differentiated the Odyssey from other minivans in its class. Especially today, as the minivan category continues to shrink, Honda has doubled down on its dependable Odyssey, with style touches not commonly seen in the segment.
This investment is most evident in the last five Odyssey model years, a timeframe that spans two generations of the design. This crop of Odyssey models offers plenty of the options buyers demand while going easy on the wallet. There once was a time that driving a minivan meant sacrificing style and pride-of-ownership. We challenge that notion, and our evidence is the 2015-2022 model year range of Honda Odysseys.
Gen 4: 2011 – 2017
What we love most about the fourth-generation Odyssey is it represented a turning point in Honda's attention to style and exterior design. There was a significant move toward a more aerodynamic presence that challenged traditional ideas of what minivans should look like. The more inviting exterior also predicted (accurately) a more refined interior cabin space.
Honda refreshed the fourth-generation Odyssey for the 2014 model year. Called a mid-cycle refresh, the tweaks included many new features but didn't touch the reliable 3.5-liter V6 engine that delivers a robust 248 horsepower. However, the five-speed automatic that was previously found on the lower trims was dropped, and the previously optional six-speed automatic transmission was made standard. Even before the refresh, Honda recognized the importance of performance in the overall design mix, which provided a solid foundation for the Odyssey's growing list of benefits.
The 2014 model year saw the addition of the HondaVac in-vehicle central vacuum to the top-of-the-line Touring Elite trim. This was a feature that had exhausted parents, sick of scraping crushed Cheerios off the floor mats, very intrigued. Odyssey buyers also enjoyed a brand-new audio touchscreen standard on most trims – while this is a common feature on modern vehicles, it was revolutionary at the time. Even the rear-seat passengers got some more modern technology with an upgraded high-resolution entertainment system with optional HDMI input.
Because the Odyssey is built low to the ground, it delivers a car-like ride with all the stability and smoothness expected from a car versus a more truck-like SUV ride dynamic. Busy families with young children appreciated this difference, especially for in-town driving – like errands and carpooling – because it conferred a more stable and smooth driving experience.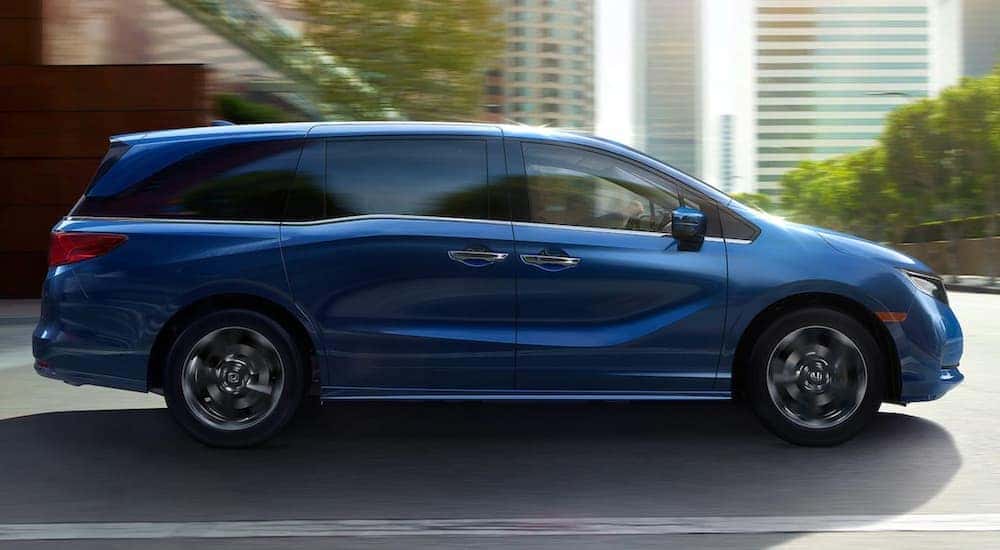 Gen 5: 2018 – present
The fifth-generation Odyssey was introduced in 2018 and saw a plethora of safety and technology additions. Honda's focus on innovation didn't exclude the minivan category, which automotive journalists saw as a clear indication that the company was nowhere near abandoning it (like so many other automakers already had).
While dimensionally, the fifth-generation Odyssey didn't seem much different from its predecessor, the exterior changes were significant when considered through the lens of aerodynamics, fuel economy, and overall appearance. For the fifth generation, Honda also introduced an all-new powertrain built around a much more powerful direct-injection engine. The new V6 produced no less than 280 horsepower, and the new nine-speed and ten-speed automatic transmission make the difference seem even greater. Further, manufacturing and materials changes meant the new fifth-generation design was approximately 44% more structurally rigid than before, which translates into a safer, more stable ride.
Honda also equipped some trims with its driver-assist safety suite, called Honda Sensing, which included Forward Collision Warning and a lane departure alert system that monitors the vehicle for unintentional drifting out of its intended lane of travel. In the 2021 model year, Honda made the Honda Sensing suite standard across all trims and refreshed the exterior for more modern looks. For the latest 2022 model year (Honda released it early because of supply chain issues), the Odyssey starts at $32,090 and enjoys the benefits of a 2021 exterior refresh. This is the most stylish Odyssey yet, and when buyers opt for the $47,820 top-of-the-line Elite trim, there's not much that it lacks.
2015 versus 2022
Sometimes with long-running models, it's important to look back over the generational history to understand how invested an automaker is in the category. By all accounts, it's clear that Honda is focused on continuing to build high-quality minivans with styling that won't cause buyers to feel that they had to settle when they buy one. The Honda Odyssey is no one's consolation prize, and this fact is evident in both the fourth and fifth-generation vehicles. As far back as 2015, Honda began adding exterior styling to the list of design priorities, and by all accounts, that position hasn't changed. We need only look at the 2022 Odyssey to confirm it.
The biggest difference between these two model years is the addition of technology and driver-assist systems. What we can conclude, though, is that Honda has consistently filled the Odyssey with as much tech as was available at the time. The Odyssey has evolved to match important industry innovations, but while the different years have their distinct features, many features haven't changed much at all.
First, the Honda Odyssey is safety-focused. The 2015 Odyssey received an IIHS Top Safety Pick distinction. The IIHS hasn't released its 2022 scores, but the 2021 Honda Odyssey was named a Top Safety Pick+ for its standard LED headlights and driver-assist features. For 2015, the NHTSA gave the Odyssey a coveted 5-star overall safety rating. Any guesses for 2022? If you said 5-stars, you'd be correct.
The other constant is the Odyssey's ample and well-thought-out interior space. With more than enough room for up to eight passengers, Honda has consistently tweaked the interior space to maximize passenger comfort. Even third-row passengers have little to gripe about, with plenty of legroom and headroom for optimal comfort.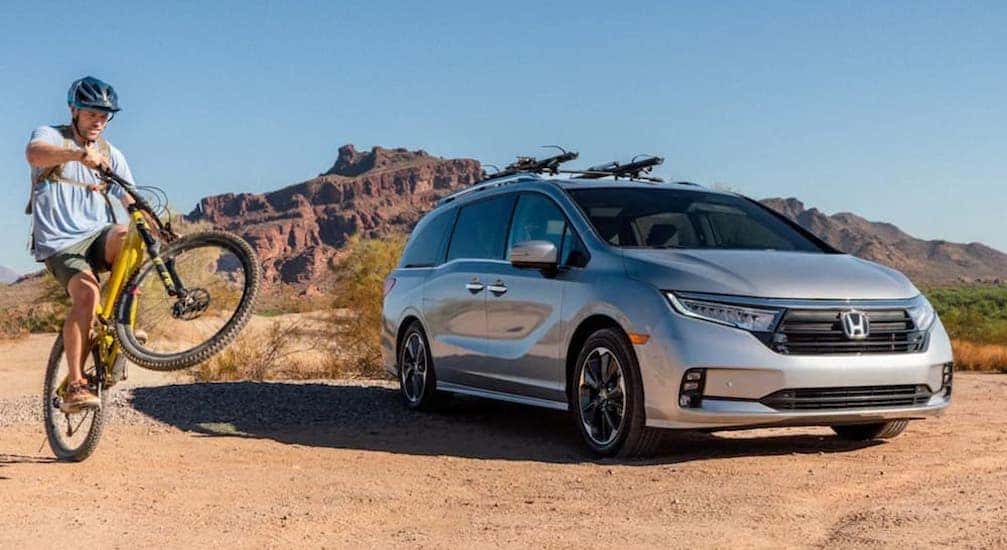 Used or New, the Odyssey Is a Family Favorite
If you're looking for a capable and practical family car, don't discount the minivan. We know the market is flooded with crossovers and SUVs designed to evoke a more stylish and rugged ownership experience, but when it comes to everyday driving, busy families should remember what's most important: convenience. A minivan offers all the space your family needs – including ample cargo space in the back – along with accessibility and drivability that comes in handy during those busy Saturday afternoons when you're logging miles delivering kids, buying groceries, and tending to the business of raising a young family.