How the Honda Odyssey CPO Works Best for Families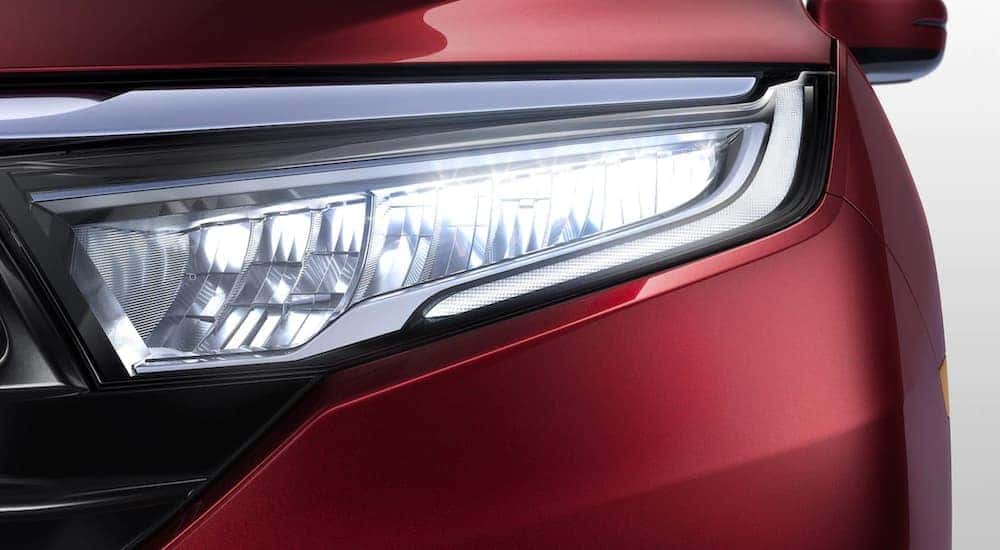 Nothing delivers the kind of spacious comfort as a minivan, and few minivans can rival the kind of luxurious interior and smooth ride quality found in the Honda Odyssey. Because minivans tend to be expensive even in lower trim levels, families who would benefit from the roomy seating and convenient features may believe they can't afford such a nice vehicle. When buying used doesn't quite hit the mark because you're on a tight budget and don't want to take chances with a previously-owned model, there is another option: Certified Pre-Owned. A Certified Pre-Owned Honda Odyssey is the perfect middle ground that makes a minivan more affordable with less of the risk of buying used.
Benefits of Buying a Honda CPO
Certified Pre-Owned, or CPO, vehicles are sold within a strict set of parameters that offer buyers more protection from a limited warranty and more convenient services than you get with a typical used vehicle. Honda offers two types of CPOs that can save money off the price of a new vehicle with the HondaTrue Certified and HondaTrue Certified+ programs. Both programs offer limited powertrain warranty coverage up to seven years or 100,000 miles and complimentary oil changes in the first year. Roadside assistance, trip interruption coverage, concierge service, and three months of SiriusXM are all included in every CPO purchase. Vehicles included in each program must also pass a stringent 182-point inspection and have a clean history.
Where the programs differ is mostly in the age and mileage of vehicles sold. For HondaTrue Certified vehicles, only models with fewer than 80,000 miles and less than six years of age can be sold as a CPO. This means vehicles from 2017 to 2021 can qualify, and an additional non-powertrain warranty of four years or 48,000 miles makes this tier of certification an excellent choice. HondaTrue Certifed+ vehicles must be less than 12 months and have fewer than 12,000 miles from the original purchase to qualify, which means only 2021 or 2022 models are included. Non-powertrain warranty coverage of five years or 86,000 miles provides extra reassurance, and you get a minivan that is close to new.
Honda Odyssey Features for HondaTrue Certified+
The award-winning Honda Odyssey from model years 2021 and 2022 offers plentiful features and a five-star safety rating, built by one of the most trusted and reliable brands in the market today. When you purchase a HondaTrue Certified+ Odyssey, features like Honda Sensing driver-assist technology, 15 cupholders, flexible seating that can be folded or removed, and powered seats are standard for all trims. Technology such as Apple CarPlay and Android Auto is available for all but the entry-level LX trim, and within the trim levels, features like wireless charging and a rear-seat entertainment system are just a few of the conveniences to expect. Parents who want to keep an eye on their little ones can utilize the available CabinWatch feature that shows camera views of the rear seats. CabinTalk then allows the driver to use the rear speakers like an intercom so you know you can be heard, both features found in upper trims.
Having features to make life easier on the road can make time as a parent much simpler, like Magic Slide seats in the second row so you can move the seats either forward or backward, then side to side to make the best use of space. Smart Entry automatically unlocks the Odyssey when you approach with your key fob, and then the standard push-button start gets you right on the road. Powered sliding side doors are easy enough for your little ones to open so they can help get themselves inside, but child safety locks mean they stay inside until you help them open the door. For the parents, front seats can be heated or ventilated, and tri-zone climate control helps keep everyone happy. Nothing could be better than an onboard vacuum cleaner, and Honda offers this feature in the uppermost Touring trim.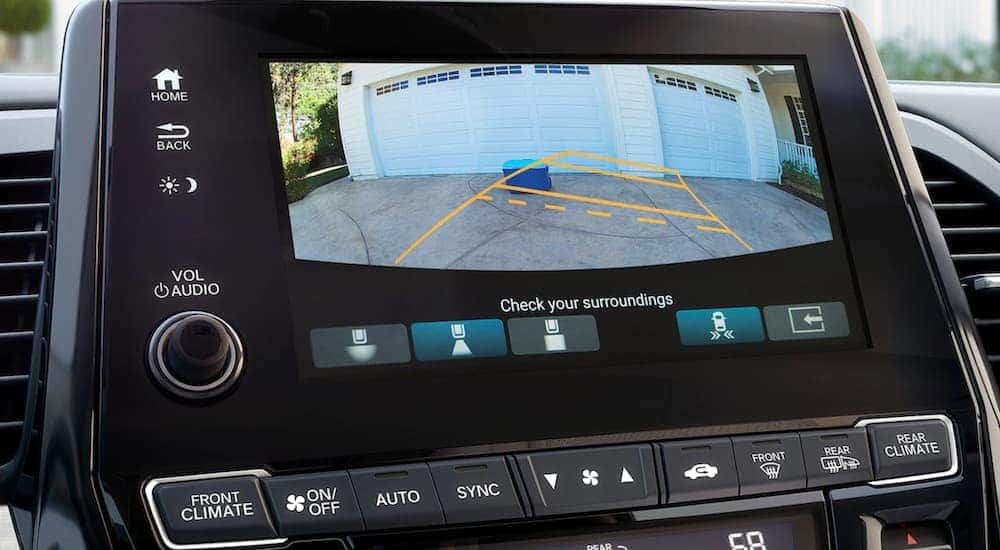 Honda Odyssey Features for HondaTrue Certified Models
Even Honda Odyssey models going back to 2017 will offer many of the safety and convenience features found in more recent CPOs. The Magic Slide seats, push-button start, and rear-seat entertainment will all be found within the trim levels of 2017 models, and ease of entry with powered side doors and a powered liftgate are there, too. Even the vacuum cleaner is part of the features list for the uppermost trim, a feature many parents love. Where the 2017 models differ most is with driver-assist technology being offered more in the upper trims, and this is a year prior to the redesign in 2018. The exterior and interior styling are part of the previous generation of the Honda Odyssey.
Models from 2018 to 2021 share more similarities in styling, and more safety features were added across the trim levels in 2018. For that model year, all but the entry-level trim included standard Honda Sensing technology, and this carries over through 2020 models. In 2018, Honda added a larger eight-inch infotainment screen for all but the entry-level trim, but stepping up to the second-level EX includes a plethora of features like heated seats, Smart Entry, and powered side doors. The Touring trim for 2018 offered WiFi and a hands-free liftgate, while the Elite had wireless charging and an upgraded audio system. Largely 2019 models reflected most of the same features, and then 2020 models added features like Apple CarPlay and Android Auto to the second trim level.
Useful Tips About the Honda Odyssey
Every Honda Odyssey within the model years of the CPO programs is equipped with a 3.5-liter V6 engine that delivers excellent capability for acceleration, even with a full load of passengers. The engine can tow up to 3,500 pounds, so if you own a small camper or boat you like to take on vacation, you can take it along for the ride. Fuel efficiency is also excellent for a vehicle of this size, and buyers can expect to get at least 19 MPG in the city and up to 27 or 28 MPG on the highway, depending on the model year.
Inside, the Odyssey has room for seven or eight passengers, with all but the entry-level trim making room for eight. Cargo space is plentiful and well-organized, with features like hooks for bags, cargo nets, and clever bins and pockets found throughout the minivan. Honda Sensing features include a Collision Mitigation Braking System and Road Departure Mitigation for safety, while convenience features like Adaptive Cruise Control with Low-Speed Follow can make long trips less fatiguing.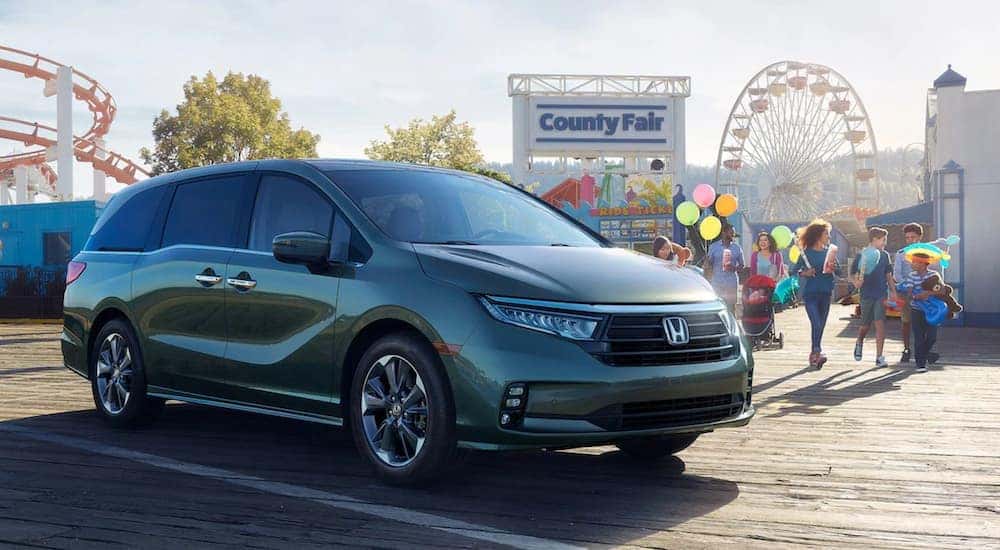 How to Find a CPO Honda Odyssey
Locating a Honda Odyssey that has been certified for one of the two CPO programs offered by Honda is as simple as visiting our website or coming to our dealership when you're ready to begin. When using the website, use the filter to find an Odyssey with the features you most want, and you can search by price range as well. Every Honda CPO offers a downloadable vehicle inspection history so you can see how each model was inspected and repaired if you want to access that information, and this includes whether or not any recalls needed to be completed.
Part of the peace of mind you gain with a CPO purchase is knowing your vehicle is checked from top to bottom, inside and out, and then service techs carefully run a history report to make sure the vehicle is clear of accidents or other concerns. When you need to be savvy with your budget, but you don't want to chance buying a used car for traveling with your family, a CPO is a great choice. You save money, and you get a safe vehicle covered by a warranty you can trust. On top of that, the Honda Odyssey drives as easily as a sedan with the height of an SUV, but you get more space than most SUVs will provide. The Honda Odyssey is the perfect family vehicle.