Here Are Some Great Used SUV Options for Growing Families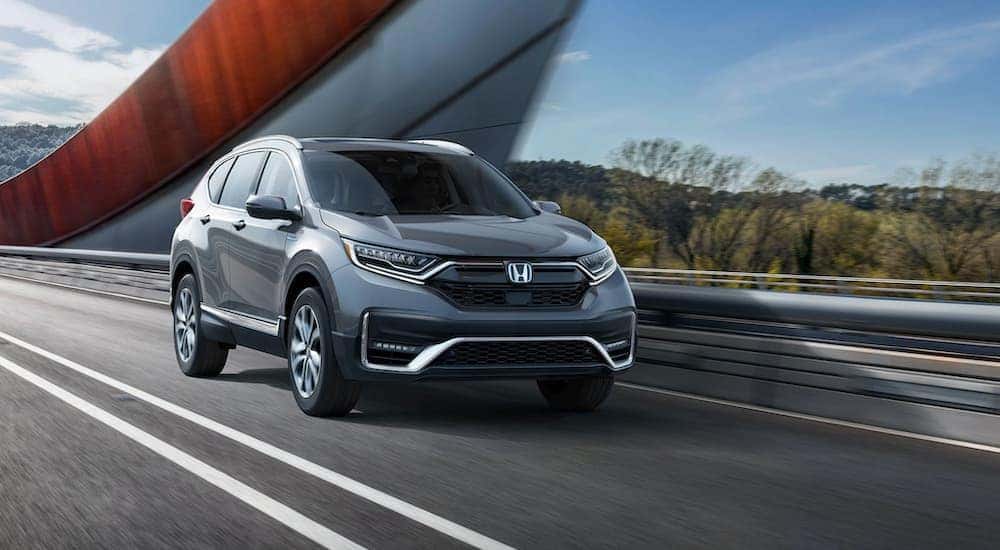 Long gone are the days of compact, sporty, commuting cars. These days, you need a vehicle big enough for strollers, car seats, and anything else your little passengers need. For growing families with young children, an SUV is often the best choice to keep up with your kids, and sometimes a used SUV is often a great choice for families working within a budget. But you can't just look at any used SUVs for sale, though. Great family-friendly SUVs are economical, spacious, and practical in every way.
So, to help you find a great used SUV for your family, we're highlighting some of our favorites and breaking them down into three categories. We have popular two-row SUVs that range from compact to midsize. Then, we have midsize SUVs with three rows, and we'll end with full-size SUVs with the most passenger room and cargo. With this list, we're confident you'll find that perfect used SUV that checks all your boxes, and when you're ready to see one up close and personal, we welcome you to stop by Gwinnett Place Honda and we'll be happy to help you get behind the wheel of your next family-friendly SUV!
Two-Row SUVs
SUVs with two rows can fall into several different segments. The two-row SUVs we believe make the most sense for young families are compact SUVs and midsize SUVs. These two-row SUVs have enough passenger space and cargo storage without feeling too big.
The Toyota RAV4
The Toyota RAV4 is at the top of nearly every used SUV list. That's because it comes with incredible reliability, power, and longevity. Toyota builds vehicles to last, and that's exactly what you can expect with the Toyota RAV4. The 2019 Toyota RAV4 was all new that year, so keep that model in mind as you shop. Additionally, the 2017 RAV4 is the first model year to receive Toyota's Safety Sense as standard, with an array of safety features like a pre-collision system with pedestrian detection, lane departure alert, and road sign assist.
The Honda CR-V
Falling in the same category, but equally as worthy, is the Honda CR-V. Honda is another car brand that comes with a reputation for high-quality vehicles. The CR-V is highly rated, holds its value well, and offers many family-friendly features. One example is the 2017 CR-V's 40 inches of legroom in the rear seating, with nearly 40 cu.ft. of cargo storage behind the rear seats and roughly 76 cu.ft. with the seats folded. This is precious space that will keep every member of your family comfortable wherever your travels take you.
The Hyundai Santa Fe
We cross into the midsize SUV segment with the Hyundai Santa Fe. It's important to note that earlier models of the Santa Fe feature three rows for 7 passengers; however, starting in 2019, the Santa Fe moved to a spacious 5-passenger two-row size. The reigning quality of the Hyundai Santa Fe is its affordability, while a close second is its standard features. You can't go wrong with the Santa Fe's SmartSense suite of standard safety features and its innovative comfort and entertainment technology.
The Ford Edge
Rounding out the two-row SUV category is the Ford Edge. The Ford Edge is another two-row midsize SUV that provides more legroom and cargo storage than small two-row SUVs. The Edge is affordable and works well for families of three or four. Rear passengers (big and small) will enjoy the spacious rear row. Some used Ford Edges models to keep an eye out for are the 2015 Edge and the 2019 Edge for their updates with increased interior room and engine options.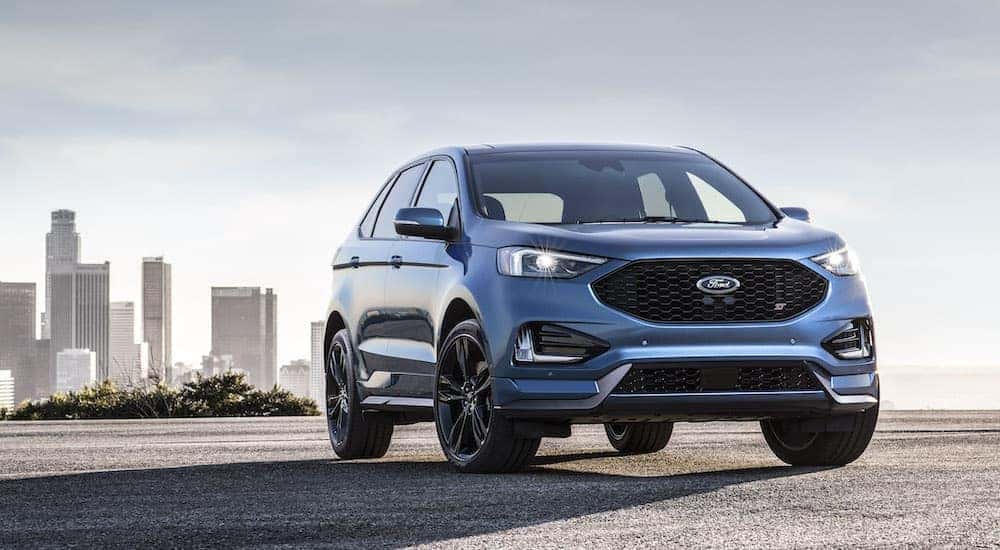 Midsize Three-Row SUVs
Midsize SUVs with a third row have the benefit of extra seating but are not as "truck-like" as full-size SUVs. Typically, the third row in these midsize SUVs is very versatile, easy to fold away for more cargo or fold up for extra passengers.
The Chevy Traverse
Chevy is known for their reliable SUVs, and the Traverse is one of its most popular models. This midsize SUV can seat up to 8 passengers and boasts great legroom for every row, and offers up to 98 cu.ft. of cargo space with the seats folded down. The 2018 Chevy Traverse was completely revamped, so keep that model year on your radar. Most notably, the 2018 Traverse saw more rear room and cargo storage, plus additional family-friendly features.
The Toyota Highlander
Toyota makes the list again with its versatile 7 to 8-passenger Highlander. The Toyota Highlander is one of the most family-friendly SUVs on the market today because of its spacious interior, family-friendly technology, and quality. This SUV can hold up well to a car full of small children, offering great convenience features perfect for parents, such as the driver easy speak system, allowing you to use a built-in intercom system to speak directly to backseat passengers without taking your eyes off the road. You'll also find Toyota's Safety Sense suite standard on most recent models, which is a great benefit. A couple of update years for the Highlander are the 2017 and 2020 models, which offer several new trims, new engine options, and a Hybrid model.
The Honda Pilot
The Honda Pilot is another top dog in the midsize three-row SUV segment. This is Honda's largest SUV and seats up to 8 passengers. The Pilot balances all the qualities a family is looking for in an SUV; it's safe, reliable, and features an array of innovative tech like a hands-free power tailgate and a CabinTalk feature similar to the Highlander. The 2019 Honda Pilot received some updates like standard Honda Sensing technology, while the 2016 Pilot is completely overhauled with improvements in cargo storage and new features like a Garmin navigation system and the available HD rear-entertainment system.
The Kia Telluride
The Kia Telluride is the new kid on the block but continues to make a bold statement. The competition is fierce, with the Highlander and Pilot leading the three-row pack, but the Telluride is definitely worth your attention. The Telluride debuted in 2020, so we're just starting to see used models on the used market. Its defining features include innovative driver-assist technology like adaptive cruise control, affordability, and a roomy interior, offering up to 87 cu.ft. of cargo space. For growing families, the Telluride should be at the top of your list.
Full Size Three-Row SUVs
Sometimes families need the maximum amount of space possible in an SUV. Thankfully there are a good amount of full size SUVs on the market to give you everything you need. These are the SUVs for the large families that need a little extra of everything.
The Chevy Tahoe
The Chevy Tahoe has long been a favorite in this category, as no one does a full-size SUV quite like the Chevy Tahoe. The cargo storage and spacious seating are a given, with a monstrous 94 cu.ft. of space available in a model like the 2019 Tahoe, but in this segment, you also gain more towing capability. Depending on your engine choice, a Tahoe such as the 2021 model can tow up to 8,400 lbs. If you're a family that likes outdoor adventures, the Tahoe can bring everything along for the ride. Another feature people love about the Tahoe is the luxury-level features available like the 10-speaker Bose system and power-retractable side steps. For many large families, the Chevy Tahoe is a welcomed addition to the garage.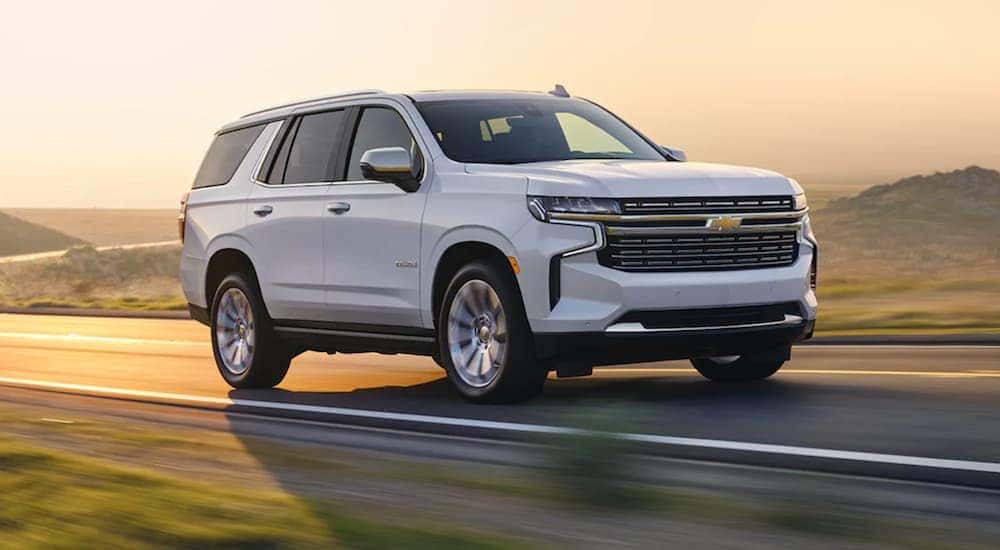 The Ford Expedition
Last but certainly not least is the Ford Expedition. The Expedition is another top player in the full-size SUV segment, and for a good reason. It offers all the seating, cargo, convenience, and technology that families are looking for in a larger-size SUV. The Ford Expedition also has truck-style capability and performance, plus it offers a smooth driving experience which is important with an SUV of this size. One model to look at in particular is the 2018 Ford Expedition. This particular model year was completely redesigned, inside and out, with increased towing capability and fuel efficiency thanks to its new 3.5-liter EcoBoost V6 engine. It also came with available features like a 10-way power driver's seat with memory, leather seating, and rear-seat entertainment.
Your Ideal Family SUV Awaits
Families of all sizes can benefit from a used SUV. They're exceptionally spacious, durable, and offer a wealth of convenient features every family needs. Buying used means you save money without sacrificing quality or value. No matter your budget, family needs, or lifestyle, there's a used SUV for you at Gwinnett Place Honda.
We offer all makes and models in our used inventory, which cover a vast assortment of vehicle types for every type of driver and family. Visit our dealership today or start your search on our website to find your next SUV. We here at Gwinnett Place Honda look forward to serving your car needs and welcome you to stop by anytime. Let us help you find that perfect SUV for you and your family.