Find a Used Honda Civic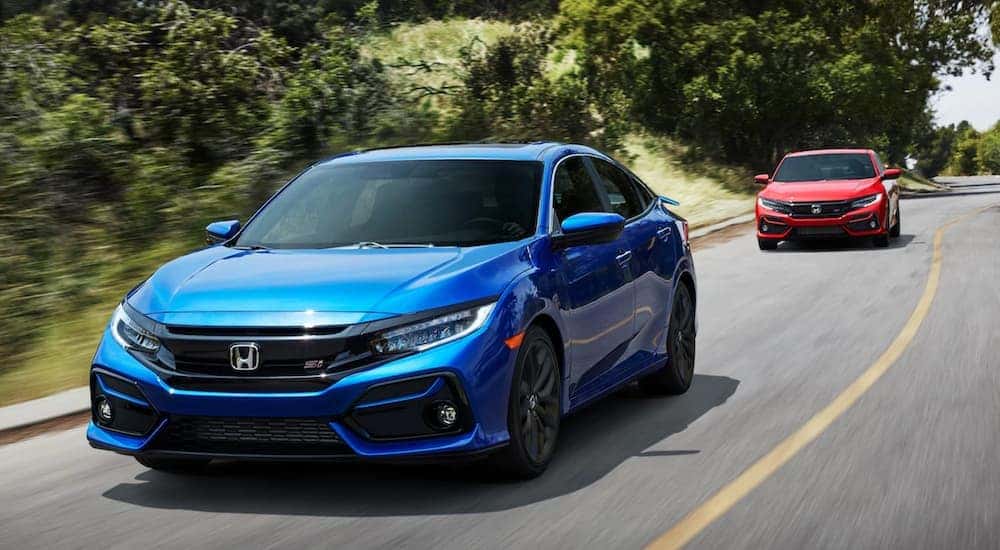 One of the most affordable, well-rounded sedans on the market, the Honda Civic made its first debut back in 1972. Even though a new model is quite economical, a used Honda Civic is even more so. Currently in its 10th-generation, a used Civic can be easily found anywhere in America, including our Duluth dealership. Today, we are going to explore the 9th and 10th generations to help you decide which model is right for your driving needs.
Used Honda Civic: 9th-Gen
Produced from 2011 to 2015, the 9th-generation Honda Civic boasted new technology that wasn't seen in competing brands and remains a surprisingly modern option. Full power accessories, keyless entry, and even a Bluetooth-compatible infotainment system can be found on some of these used Honda Civic models. Let's take a look at the details of the 9th-generation to get a better idea of what you should expect to find during your hunt.
The original 2011 model can be found in five unique trims, including DX, LX, EX, EX-L, and Si. The first four trims come with a 1.8-liter 4-cylinder engine under the hood, paired with either a 5-speed manual or a 5-speed automatic transmission. This combination is good for 140 hp and 128 lb-ft of torque and offers excellent fuel economy. However, the final trim, the Si, is a performance model that comes with a larger 2.4-liter engine that produces 201 hp and 170 lb-ft of torque, as well as performance upgrades such as a torsen limited-slip differential.
The base DX trim comes with a height-adjustable driver's seat and a tilt-and-telescoping steering column. The LX adds keyless entry, full power accessories, and cruise control. Next, the EX includes a 6-speaker stereo with steering wheel-mounted controls, a sunroof, and a USB port. Stepping up to the EX-L will get you heated leather seats, and the athletic Si model adds fog lamps, high-performance tires, and bolstered sports seats.
While no significant changes were made for the 2012 production run, the vehicle went through a redesign for 2013. Equipped with the same powertrain, the changes mostly occurred in the trim levels. The base LX model comes with full power accessories, air conditioning, and a lot of advanced technology. You'll find a rearview camera, a 5-inch display, Bluetooth phone/audio connectivity, a CD player, an auxiliary, and even a 4-speaker stereo. Next, the EX adds a sunroof and a total of 6 speakers with the stereo. Then, the EX-L includes automatic headlights, fog lamps, and heated leather seats.
As for the final production year, used Honda Civic models from 2015 only have minor changes. For example, the EX gets a larger 7-inch touchscreen upgraded from the previous 5-inch monitor. HD and satellite radio have both been added to the EX-L trim as well.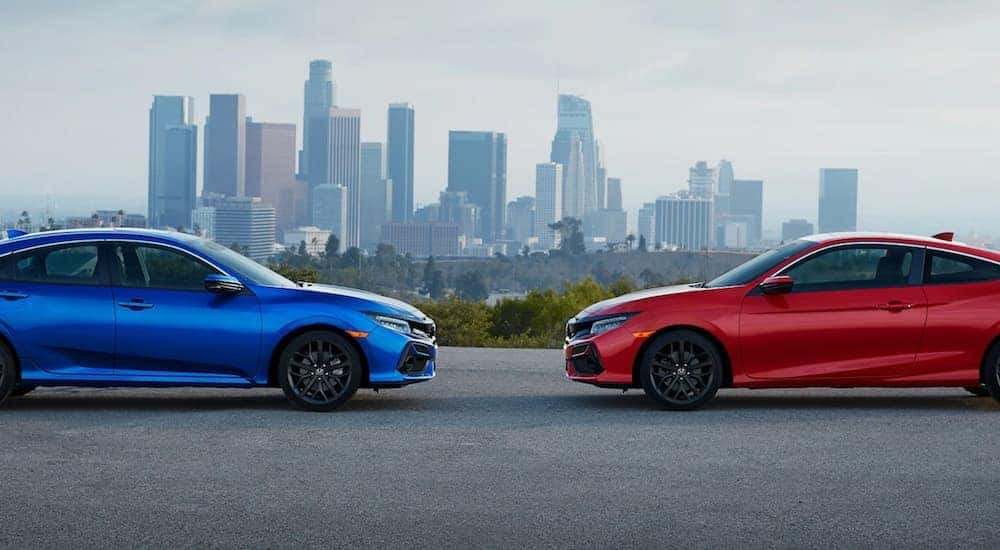 Used Honda Civic: 10th-Gen
The 10th generation of used Honda Civics launched in 2016 and is still in production. Available in coupe, sedan, and hatchback body styles, there are several newer features to look out for, including LED exterior lighting. The engine lineup has also changed with new turbocharged options for increased power and efficiency.
A 2.0-liter 4-cylinder motor is equipped with the LX and EX models. Generating 158 hp and 138 lb-ft of torque, this powertrain is paired with either an engaging 6-speed manual or continuously variable transmission for improved fuel. For the remaining standard trims (EX-T, EX-L, and Touring), you will find a turbocharged 1.5-liter 4-cylinder engine rumbling under the hood. Despite pumping out 174 hp and 162 lb-ft of torque, this option actually gets even better gas mileage. The Si trim also comes with a 1.5-liter turbocharged engine, but it is tuned to run on premium fuel and produces 205 hp and 192 lb-ft of torque.
The LX base trim includes automatic headlights, LED daytime running lamps, and LED taillights for optimized visibility. Also included are full power accessories, automatic climate control, cruise control, and a tilt-and-telescoping steering column. The base infotainment interface is displayed on a 5-inch monitor and operates with Bluetooth, a 4-speaker stereo, and a rearview camera. A USB port has also been installed.
For the LX-P coupe model, they get a sunroof, keyless entry, and keyless ignition. Stepping up to the EX trim will add heated exterior mirrors, dual USB ports, and an 8-speaker sound system. Technology upgrades for this level include a 7-inch touchscreen, lane-change assist, and smartphone integration via Apple CarPlay and Android Auto.
Moving on to the EX-T, these sporty models get a rear spoiler and heated seats. Advanced tech upgrades include dual-zone climate control, HD radio, satellite radio, and remote start. Then, the EX-L adds leather upholstery for a more sophisticated feel. The steering wheel and shift knob are also wrapped in leather, and an auto-dimming rearview mirror has been installed.
Finally, the top-of-the-line Touring trim comes with LED headlights and rain-sensing wipers. Inside the cabin, you will find heated seats throughout, a 10-speaker stereo system, and a navigation system. As for safety features, this particular model includes the Honda sensing suite. This comes with lane-departure warning/intervention, adaptive cruise control, automatic emergency braking, and forward collision alert.
By 2018, the features are mostly the same. The main difference is the rearrangement of the trim levels. Most of the coupe trims have been retired. If you find a used Honda Civic coupe from 2018, it will be an LX-P model which comes with a sunroof, keyless ignition/entry, and remote start technology.
The Civic hatchback is also available in several trims that mostly follow the options available for the sedan and coupe. However, there are two major differences. First, every standard Civic hatchback trim comes with a 1.5-liter engine. Second, the Si trim is replaced by the even higher performance Type R. That track-ready variant comes with a turbocharged 2.0-liter 4-cylinder engine that produces no less than 306 hp and 285 lb-ft of torque. Only available with a 6-speed manual transmission, this model also comes with larger brakes, a large rear wing spoiler, high-performance tires, and a redesigned suspension.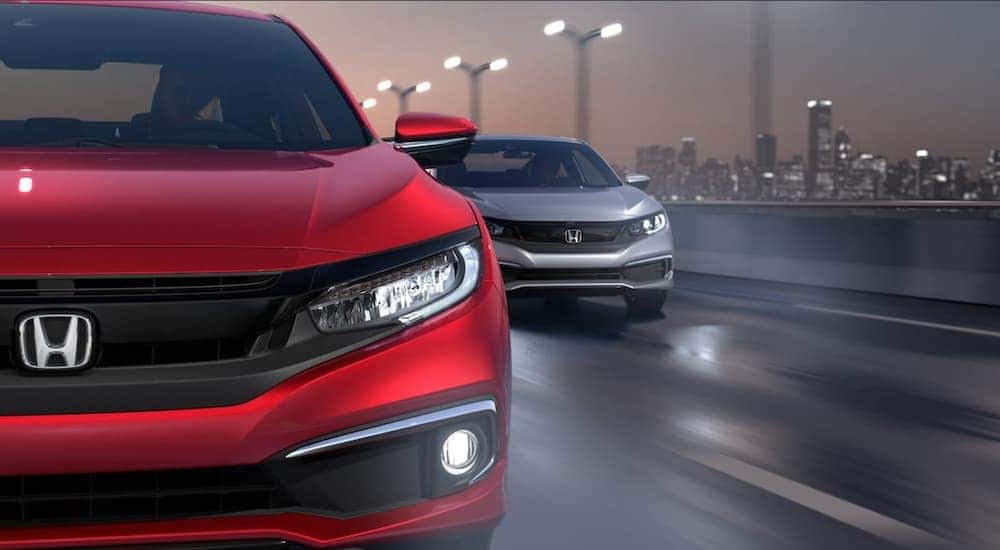 Find a Used Honda Civic
Are you interested in purchasing a used Honda Civic in the Duluth area? Then you have come to the right place. Here at Gwinnett Place Honda, we specialize in all kinds of Honda vehicles, new and used. Our experts swear by the brand and would love to share their knowledge with you to assist your quest for the perfect ride.
Whether you are searching for a fuel-efficient sedan to commute to work every day or you are looking for a sportier coupe that exudes style, we've got you covered. Our pre-owned inventory changes every day. However, we usually have plenty of used Honda Civic models in stock. If you see one that you absolutely love on our site, contact us to see if it's still available. Or visit us in person to view your different options first hand.