8 of the Coolest Off-Roading Technologies for Trucks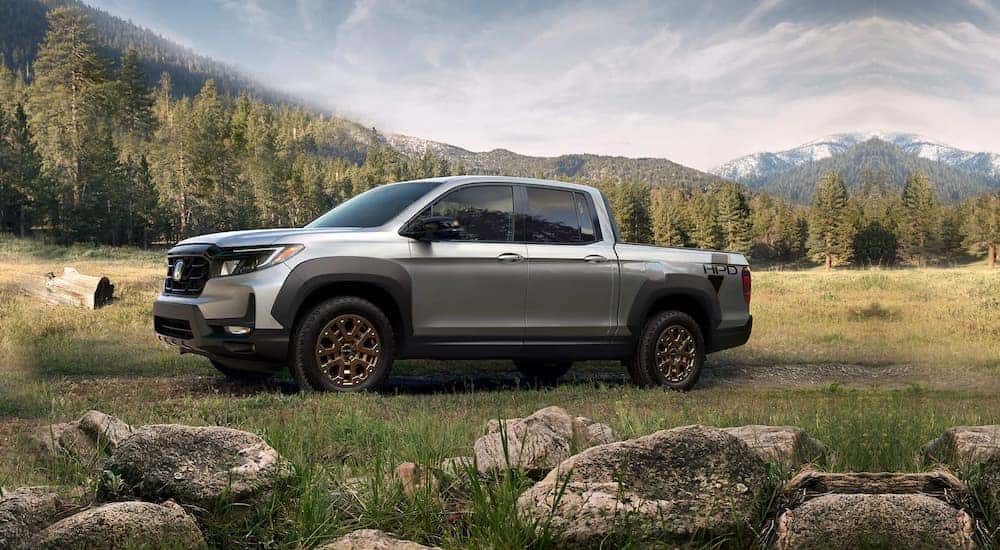 If you're looking for an off-road truck dealer, you've probably considered the technological features that would make your truck-driving experience perfect. Sure, you don't need massaging seats or rear flat-screen monitors in an off-roading vehicle, but that doesn't mean you should rule out comfort and convenience-based tech. For off-roading trucks, features like efficient performance and utility technology are essential; however, there are many new, modern convenience technologies that make off-roading safer, easier, and a lot more fun. We've got a list of our favorite off-roading truck tech features and the models accompanying them.
8. Multiple Camera Views
Camera views? No, we're not talking about photography. You need camera angles to help you stay safe and keep your off-roader out of trouble. Sure, you can go more places in an off-road-capable truck than in your average vehicle; however, that doesn't necessarily mean that you should blindly trust the road ahead. It's a good idea to purchase a truck that offers multiple camera views to help you avoid debris and dangerous terrain. Many off-road-capable trucks offer these technologies, such as the Chevy Silverado, the Nissan Pro-4X, and even the Ford F-150 Raptor.
For example, the 2020 Chevy Silverado 1500 offers 8 different cameras creating up to 15 different camera views. You'll get 4 hitch views, 6 driving views, and 5 parking views. Some of these views include an inside trailer view, a hitch view, surround view, transparent trailer view, front side view, and more. The top-down and side views are especially handy for off-roading because they give drivers an overview of the truck and a close-up wheel view.
Similarly, the Nissan Pro-4X offers Nissan's own Intelligent Around View Monitor with Off-Road Mode, designed specifically for off-road driving. At low speeds, drivers can view each tire and its surrounding area by looking at the infotainment screen. There's also an available top-down view that lets you view the surrounding area, while the 2nd-generation F-150 also includes a 360-degree camera system. Not only do these technologies help you avoid dangerous areas and obstacles, but they also help you hook up trailers and pull your friends out of the mud.
7. One-Pedal Driving
Interested in cruise control for off-roading? Then you'll love Ford's One-Pedal-Drive feature. When rock climbing or navigating other difficult off-roading areas, activate this technology, and it will allow you to drive with just the acceleration pedal. When you let off the fuel pedal, your truck's brakes will apply appropriately based on the current road conditions. This allows the driver to focus more on direction and less on the brake, gas, and throttle. This feature is available on the 2021 Ford F-150 Tremor.
6. Trail Turn Assist Feature
Trucks certainly make wider turns than SUVs do, which can be dangerous when it comes to trailing. That's why many all-terrain trucks come with optional Turn Assist technologies. These turn assist features make it easier to maneuver tight backroads and trails. This feature is particularly helpful in curves, as it's designed to make your turn radius shorter. As of right now, the Ford F-150 offers a version of this feature titled "Trail Turn Assist." By adjusting braking, this technology can tighten steering, making low-speed turns much easier.
5. Terrain Modes
Many off-road-capable vehicles now include something called terrain modes. While it's still important to learn how to drive in all conditions, terrain selection management systems are there to do some of the heavier lifting. For example, you can activate your truck's snow/slippery mode to maintain ideal traction on slick terrain when it snows. Different trucks will offer various modes and terrain options. Overall, these systems can monitor road conditions and adjust torque, handling, and steering accordingly.
The 2nd-generation Ford F-150 and most recent generation Honda Ridgeline models both offer good examples of good terrain management systems. Whether you need to tackle mud, sand, or snow, these trucks have you covered. Just don't forget to switch back to your "normal" mode when the terrain levels back out.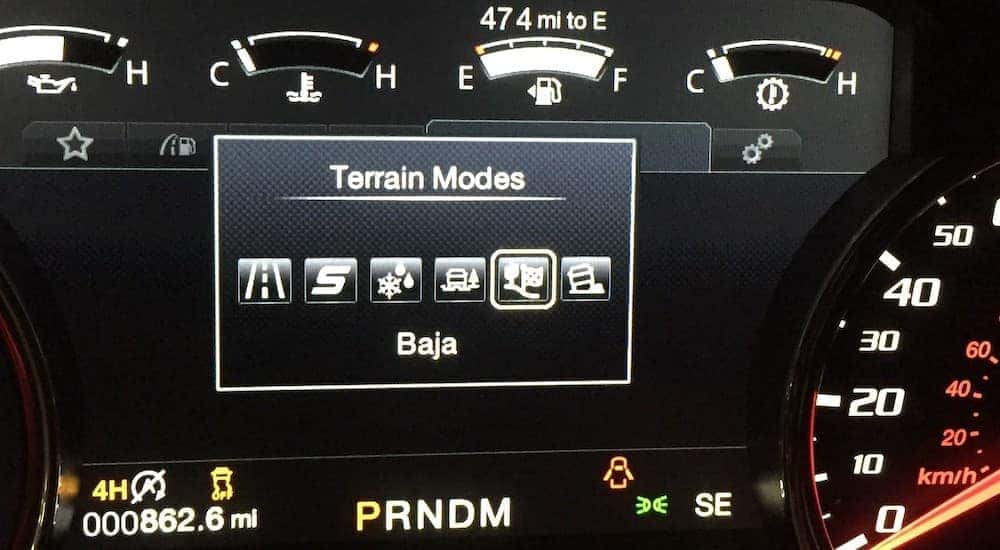 4. Hill Descent Technologies
It's much scarier to go down the roller coaster hill than going up it. Off-roading can feel this way at times, too. Climbing the hill isn't as gut-wrenching as the decline. This is where hill descent control technologies come in. Using anti-lock brakes and traction control, hill descent technologies will hold your truck back when you're on the decline, saving your brakes and lowering your recession speed.
When you purchase a truck with hill descent technology, you can relax a bit when heading downhill. This feature is especially important for drivers who traverse steep, rocky trails and slick, muddy roadways. Some trucks with this feature include the 2nd-generation Ford F-150, and most recent Chevy Silverado 1500, Jeep Gladiator, and Ram 1500 generations.
3. Off-Road Gauges (Inclinometers)
Let's get real here—you don't always know exactly where you are or how bad of a predicament you may be in when you're on the trails. It's hard to tell from inside the cabin, and while camera views can certainly help, it's nice to know which way your truck is tilting. Whether it's front-to-back (pitch), or side-to-side (roll), this information can help determine your next move. This is why inclinometers are important for off-roaders to have. Many truck models come with standard inclinometers, but be sure to ask your dealership about your specific model of interest.
2. Diverse Truck Bed Features
Utility features are incredibly important for any driver who plans on being in the wilderness. Furthermore, we all know that the main perk of owning an off-roading truck over an SUV is its bed space and hauling ability. To put it simply, the more diverse your truck bed is, the better. Several used off-road trucks come with standard and available functional tailgates and beds, including the most recent generation Chevy Silverado, GMC Sierra, Toyota Tacoma, the 2nd-generation Ford F-150 models.
Out of the three, the Silverado and Sierra come with the best truck bed features. The GM-exclusive Multi-Flex Tailgate offers 6 different tailgate functions, including a heavy-duty step, an inner gate, load stops, an inner gate work surface, and more. The Toyota Tacoma offers 4 heavy-duty cargo tie-downs, along with a durable composite bed design and a built-in 120v bed outlet. The F-150 offers a construction station setup called "Pro Power Onboard" that includes a tailgate workstation and generator. Whether you're camping overnight and need to cook breakfast or a place to make off-road repairs, these truck beds and tailgate features come in handy.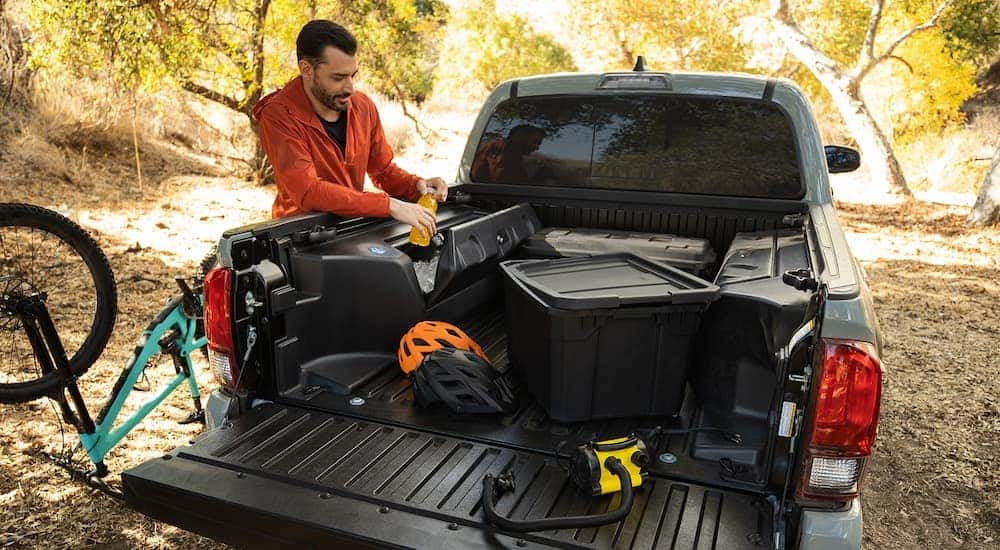 1. Electronically Disconnecting Sway Bars
Naturally, sway bars are standard on vehicles to help maintain stability on the highway. However, a sway bar will limit vertical wheel flexibility, which can pose an issue for off-roaders. Traditionally, people had to use hand tools and manually remove sway bars before hitting the trails. Technology has thankfully advanced, and now many off-roading vehicles offer "electronically disconnecting sway bars." By pushing a button, you can reap the benefits of absent sway bars without all the extra time, labor, and grease.
This technology is mostly a Jeep and Ram offering. The most recent Jeep Gladiator and Ram 1500 models offer electronically disconnecting sway bar features. It is also possible to have this feature installed as an aftermarket part on any off-road-capable truck model. Just keep in mind that this feature can cause issues during your daily commute, so don't forget to reattach the sway bar once you're back on pavement.