2022 Honda HR-V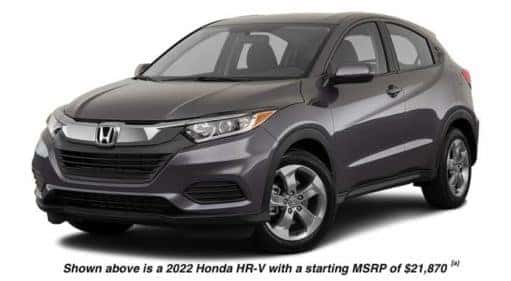 Starting at
$21,870[a]
2022 Subaru Crosstrek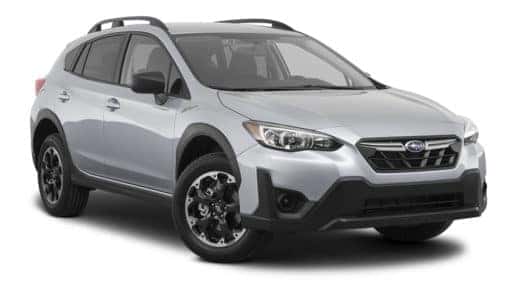 Starting at
$22,645
| | | |
| --- | --- | --- |
| 30[b] | Fuel Economy (mpg) | 30 |
| 58.8 | Cargo Room (cu.ft.) | 55.3 |
| 39.3 | Rear Legroom (in) | 36.5 |
Subcompact SUVs are quickly gaining popularity among drivers who appreciate having plenty of seating and cargo room, but who don't require the massive bulk of a midsize or full-size SUV. Two top models to compare in this segment are the 2022 Honda HR-V vs 2022 Subaru Crosstrek.
Both Honda and Subaru have a long tradition of creating well-engineered, reliable vehicles that are efficient and easy to drive. Auto experts have ranked both manufacturers' vehicles at the top of their class for many years, demonstrating that even as the trends change and technology advances, Honda and Subaru are continuously creating cars and SUVs that the driving public cherishes.
How would the average driver choose between two similar vehicles with equally great reputations? It might seem impossible, but there are quite a few differences between the two vehicles. This might be one situation in which the slightest preference might tip the scales. Therefore, let's take a look at both the 2022 Honda HR-V and the 2022 Subaru Crosstrek so that you can determine which one best fits your subcompact SUV needs and deserves the place of honor in your household.
Performance

Honda HR-V Power and Efficiency
There are two questions nearly every driver asks, regardless of what type of vehicle they need. First, drivers want to know what kind of power and performance the vehicle provides. Will it get them where they need to go? Next, it's a good idea to ask about fuel economy. Gas mileage is an important consideration not only in the performance of a vehicle but also in its affordability.
The power and efficiency of the 2022 Honda HR-V are exactly what fans of the manufacturer might expect. While the engine isn't exactly designed for street racing, the 1.8L inline-4 provides 141 horsepower and 127 lb-ft of torque, which is plenty of power for seeing the sites and enjoying your daily commute.
The 2022 HR-V is also easy on the fuel budget. Front-wheel drive models are rated for 28 miles per gallon on the city streets and 34 miles per gallon on the highway, while all-wheel drive versions are rated for up to 27 miles per gallon in the city and 31 miles per gallon on the highway, depending on the trim selected.[b]
Subaru Crosstrek Capabilities
The 2022 Subaru Crosstrek comes equipped with one of two engines, depending on the trim selected. The base and Premium trim come with a 2.0L flat-4 capable of 152 horsepower and 145 lb-ft of torque, while the Sport and Limited trims include a 2.5L flat-4 with 182 horsepower and 176 lb-ft of torque. While an automatic transmission is available for an additional fee, the Crosstrek base engine comes standard with a less user-friendly manual transmission.
With the manual transmission, the Crosstrek is only rated for 22 miles per gallon in the city and 29 miles per gallon on the highway. The 2.5L engine is offered with an automatic transmission only, but its additional power means that it also gets relatively poor fuel economy at 27 miles per gallon in the city and 34 miles per gallon on the highway. Overall, the Crosstrek can be a thirstier vehicle than the HR-V, which contributes to a higher cost of ownership.
Capability

All-Wheel Drive For All Weather Conditions
If you definitely don't want all-wheel drive, then this decision is much simpler––only the HR-V is offered with front-wheel drive. However, many drivers of subcompact SUVs appreciate the added control all-wheel drive provides on these smaller yet taller vehicles, especially when carrying precious cargo in the rear seats.
The 2022 Honda HR-V offers Real Time AWD with Intelligent Control System on all trims. This system is able to gauge the traction levels of front and rear wheels independently, sending torque where it's needed when traction is lost due to poor weather or road conditions.
Built For Confidence
The 2022 Subaru Crosstrek is offered with standard Symmetrical All-Wheel drive across the lineup; however, only those who pay extra for the available automatic transmission can enjoy Subaru's X-MODE feature. This system combines transmission and engine output with additional traction control to reduce spinning and slipping. X-MODE also offers a Deep Snow/Mud setting on the Sport trim.
It's important to note that even though the Honda HR-V is equipped with a very competent all-wheel drive system, it's optimized for handling bad weather on paved roads. Maximum ground clearance is 7.4 inches, compared to the Crosstrek's 8.7 inches, which means those who intend to take their HR-V into the wilderness might want to consider a few aftermarket tweaks before hitting the trail. However, if you stick to the streets, you may find the HR-V handles more nimbly than its off-road-oriented competitors.
Features

Building on a Solid Foundation
It wasn't long ago that comfort and convenience in any automobile were limited to hand-crank windows and AM radio. Today's subcompact SUVs come with far more equipment, ranging from the practical to the luxurious.
The 2022 Honda HR-V includes a solid selection of standard features, including the well-received Magic Seat system, which allows for a variety of seat and cargo configurations so drivers can make the most of their space. Front-wheel drive HR-Vs have 24.3 cubic feet of cargo room behind the rear seat, while the Magic Seat system allows drivers to fold the rear seats to create up to 58.8 cubic feet of room. The 2022 Subaru Crosstrek isn't as savvy about interior space, though it does provide up to 55.3 cubic feet of cargo space thanks to the included 60/40-split folding rear seats.
Other standard features on the 2022 HR-V include an infotainment system that features Bluetooth connectivity and a rear backup camera, along with an available 7-inch touchscreen. The LX trim includes standard Android Auto and Apple CarPlay connectivity. Stepping up to the EX trim adds the Honda Sensing suite of safety and driver assistance technology, which includes collision-mitigation braking, lane keep assist, and adaptive cruise control, among its features. The 2022 HRV also offers cozy features like heated mirrors and front seats, a moonroof, and a leather-wrapped steering wheel standard on higher trims.
Crosstrek Features and Tech
The 2022 Subaru Crosstrek also offers the necessities on its base trim, including roof rails, automatic climate control, and an infotainment system controlled through a standard 6.5-inch touchscreen. Apple CarPlay, Android Auto, and Bluetooth are offered across the lineup. Selecting the automatic transmission on the Crosstrek adds some of the EyeSight package of driver assistance features, including forward collision warning with automatic braking, lane-keep assist, and a rear-seat reminder.
Moving through the Crosstrek trims adds plenty of creature comforts, such as Wi-Fi, heated seats, a power-adjustable driver's seat, and a power moonroof. In addition, the Crosstrek's safety features increase along the trim lineup, with the top trim including blind spot detection and reverse automatic braking.
Declaring a Winner
When it comes to having a safe, dependable ride for yourself and your family, both Honda and Subaru are well-loved brands that many drivers have relied upon for decades. But while there are many similarities between the 2022 Honda HR-V and the 2022 Subaru Crosstrek, each provides something different for its drivers. The Honda HR-V is offered with or without all-wheel drive, while the Subaru Crosstrek is only offered with all-wheel drive. The HR-V is also more spacious, with its unique Magic Seats offering far more flexibility when it comes to interior storage. Considering all the familiar Honda features that drivers have come to know and love since the brand first became available in the US, the HR-V takes the clear lead.