Honda's Incredible Cars
Few automakers boast the breadth and depth of its line of sedans, coupes, and hatchbacks like Honda. These Honda models are some of the best on the market, and the name alone carries a great deal of cachet. Whether you want a sporty compact sedan like the Honda Civic or a luxurious midsize sedan like the Honda Accord, Honda has the car for you. If performance is your thing, then you should consider the stylish Honda Civic Si Sedan. Its adaptive damper system helps reduce drag while providing a smooth ride for you and your passengers.
If you'd prefer a two-door coupe, there is always the cute and efficient Civic Coupe, with an EPA estimated fuel economy of 30 MPG in the city and 38 miles per MPG on the highway.1 There is also the super sporty Civic Si Coupe. The Civic Si's sleek profile and 18-inch alloy wheels are sure to turn heads as you pass by. In addition, with an EPA estimated 26 MPG in the city and 36 MPG on the highway, you will spend more time having fun driving your Civic Si Coupe than at the gas station.2
Few cars are as versatile as a hatchback. In addition to two rows of seats for you and your four passengers, a hatchback expands the trunk space, providing more room for your stuff. Probably the most adorable car in the lineup of Honda models is the Honda Fit. This cute little hatchback will fit into anyone's budget and lifestyle. The Honda Civic Hatchback is slightly larger, but don't let that fool you. It gets an incredible EPA estimated 31 MPG in the city and 40 MPG on the highway.3 If you are looking for a model that features a race car design that's also street-worthy, the Civic Type R is the perfect choice.
Honda has been on the cutting edge of alternative energy innovation from the beginning. Today, there are five Honda cars to choose from if you want to move away from a reliance on fossil fuels. Your first option is the Honda Insight, which can get an EPA estimated 55 MPG in the city and 49 MPG on the highway by utilizing a hybrid powertrain.4 If you prefer a more traditional styling, you can opt for a Honda Accord Hybrid. This Honda model can provide an astounding EPA estimated 48 MPG in the city and 47 MPG on the highway.5
There are also two models of the futuristic Clarity sedan currently available. The Honda Clarity Plug-In Hybrid provides an amazing 340-mile range, and an EPA estimated 47 MPG.6 The Clarity Fuel Cell operates on a hydrogen fuel cell for incredible efficiency and ridiculously low emissions. Best of all, the Clarity Fuel Cell has an estimated range of 360 miles on just one tank of fuel.

Road-Ready Honda SUVs
The SUV has become the most popular model type on the road today, and it is easy to see why. These vehicles provide the interior features of a luxury vehicle, the roominess of a passenger van, the ruggedness and cargo space of a truck, and the handling of a sedan. The Honda models in this line cover the gamut of sizes currently on demand, from compact SUV all the way to three-row models.
The compact and affordable Honda HR-V offers all the features of an SUV in a smaller size. From its sporty styling to its roomy trunk, the HR-V shows that great things come in small packages. It comes standard with front-wheel drive, but all-wheel drive is available for those of you who want to take on whatever weather conditions you may face. The HR-V is also quite fuel-efficient, with an EPA estimated 28 MPG in the city and 34 MPG on the highway.7
The Honda CR-V is slightly larger and fits into the crossover class of vehicles. This Honda model comes equipped with an array of standard safety features and has an exceptional fuel economy of 28 MPG in the city and 34 MPG on the highway.8 If you want an even better fuel economy, you can now buy the CR-V in a hybrid version. This model has an EPA estimated 40 MPG in the city and 35 MPG on the highway.9 This rating shows why a Honda CR-V Hybrid is the ideal SUV for someone living in an urban area.
If you're in the market for a larger SUV, Honda offers two midsize models. The first option is the Honda Passport, which uses a V6 engine that produces 280 horsepower so you can have plenty of pickup, even if you are towing up to 5,000 pounds. For those who need plenty of space for passengers, there is the three-row Honda Pilot with seating for up to eight. The 2021 Pilot has a unique aerodynamic styling that cuts down on drag, improving fuel efficiency to the point where the Pilot has an EPA estimated 19 MPG in city driving and 27 MPG on the highway.10 Those are very impressive numbers for an SUV of this size. There is also plenty of room for cargo, even with all three rows of seats in use. Honda SUVs give you the best of both worlds, with luxury features, fuel economy, spaciousness, and affordability all in a very cool package.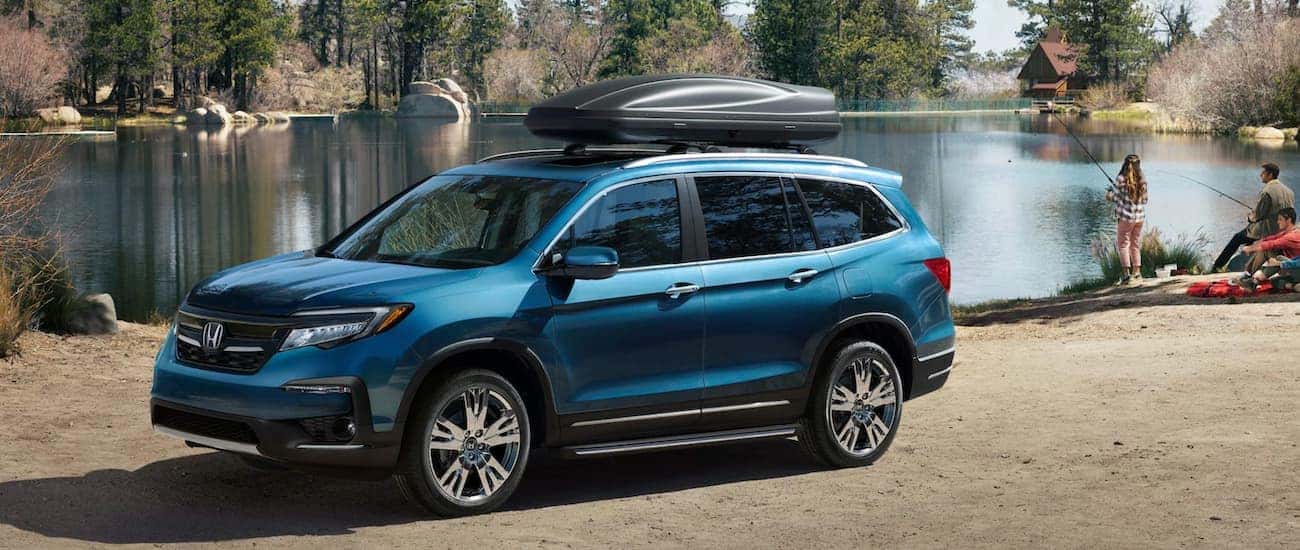 Family Friendly Honda Vans
If you are in the market for a minivan, your search should begin and end with the Honda Odyssey. This Honda model has been designed to be easily adaptable, allowing you to shift from an 8-passenger vehicle to a maximum cargo carrier with little or no effort. In addition, this van comes equipped with a 3.5-liter V6 engine that produces 280 horsepower, so you will have the get-up and go you need when you hit the road. Clearly, this is not your father's minivan. In addition, the Odyssey is fuel-efficient, with an EPA estimated 19 MPG in the city and 28 MPG on the highway.11 This is one minivan that truly has it all.