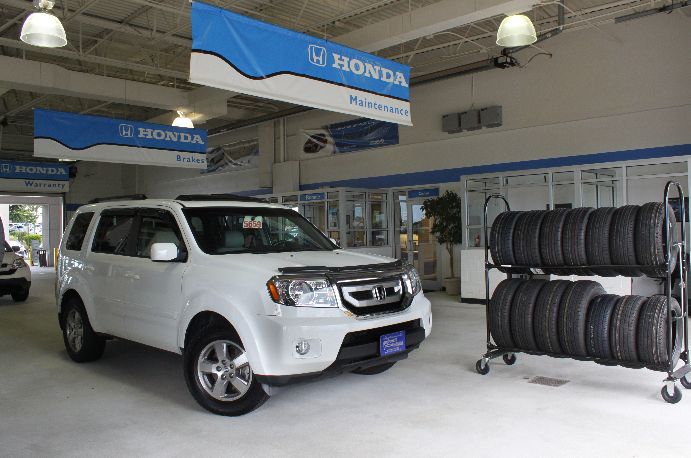 Drive tires tend to wear more quickly than non-drive tires. Rotating the position of your tires periodically promotes more even tread wear, and will help you get the most miles out of your tires, the best traction, and improved driving safety.
Tire rotation is the removal and relocation of each tire on your vehicle. Each tire on your vehicle wears differently, depending on their position on your vehicle, your personal driving style, your vehicle's weight distribution, and performance characteristics. Front tires typically tend to wear more quickly than rear tires, because of steering/cornering forces and the difference in weight on the front tires.
At Gwinnett Place Honda's service center serving Atlanta, we'll rotate your tires according to your owner's manual recommendations. Rotating tires is an important routine maintenance service for your vehicle, like oil changes.
Have Your Tires Rotated and Wheels Balanced At Gwinnett Place Honda
This car repair center serving Atlanta recommends tire rotation in accordance with your owner's manual recommended service intervals. Your Gwinnett Place Honda technician will check your owner's manual and let you know the proper tire rotation service interval for your specific vehicle.
Proper wheel balance helps ensure a smooth ride, and minimizes tire wear. Out-of-balance wheels can cause vibration in your vehicle's ride, premature or irregular tire wear, and unnecessary wear on your vehicle's suspension. When driving with an out-of-balance wheel, the tire bounces down the road, rather than spinning smoothly. This can affect the speed and handling of your vehicle. The lightweight suspension systems of today's vehicles are more sensitive to imbalance than older cars.
A technician from this auto repair center serving Atlanta will be happy to rotate your tires and balance your wheels to proper specifications.
Gwinnett Place Honda recommends you have your wheels balanced each time you rotate your tires or according to your owner's manual specifications. To set up a tire rotation, or any other servicing of your vehicle, please contact our service department at 678-957-5050 or schedule an appointment through the website.