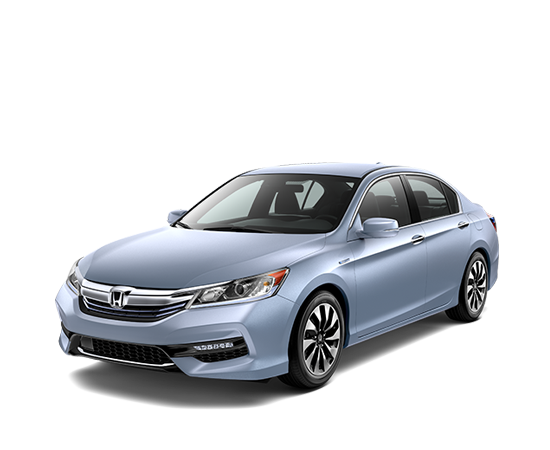 With two sources of power, impressive fuel economy and lower emissions, hybrid vehicles are just one of many ways Honda is creating more sustainable transportation.
The 2017 Accord Hybrid sports a class-leading 212 horsepower of peak total system output, up from 196 horses in 2015, when the 2.0-liter gas engine, electric motors, and battery pack are combined at speeds between around 40 and 70 mph.
In addition to savings at the pump, hybrid vehicles can help reduce air pollution, greenhouse gas emissions and dependency on oil. Without compromising performance or style the 2017 Accord Hybrid allows drivers to be environmentally conscious.
But how does it work?
Hybrid electric vehicles combine an internal combustion engine with an electric motor for higher fuel economy and reduced emissions. The on-board battery stores energy generated during braking and deceleration, eliminating the need to plug in and recharge. Some other unique features of hybrids are idle-stop, regenerative braking, power assist and electric-drive operation.
Outside of Hybrid functionality, the 2017 Honda Accord Hybrid comes with a more compact lithium-ion battery pack which has increased trunk space by 30%; 13.5 cubic feet to be exact. Other unique features of the hybrid Accord include LED headlights and taillights, an aluminum hood, aluminum alloy wheels.
The 2017 Honda Accord Hybrid couples the safety and reliability of the Honda name with innovative features that put it near the top of the midsize hybrid vehicle market. To see for yourself visit Gwinnett Place Honda located in Duluth, Georgia. With over 500 new vehicles in stock our team of experienced sales people will work with you to meet your needs and budget.